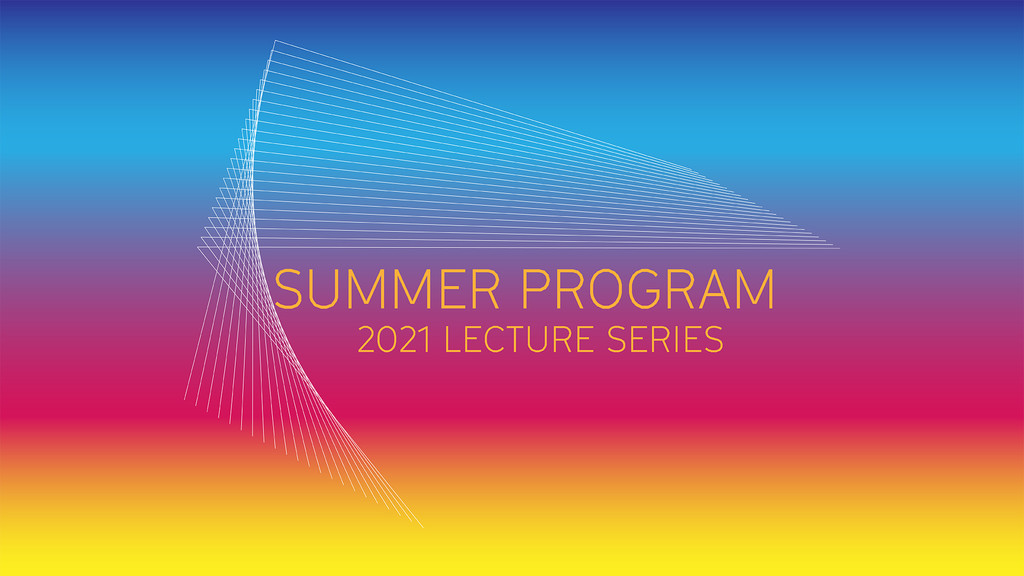 We are excited to announce our 2021 Summer Lecture Series. ⁠
⁠Our Summer Lecture Series invites speakers whose creative, professional, or scholarly practice serves as an inspiring model for participants of UCLA AUD's Teen ArchStudio and JumpStart Summer Programs. In these discussions, we'll learn what motivates their work, what research or design methods they use, and how their practice relates to the work of others and to your cultural perspective or values.⁠
We welcome our community to join us in these conversations.
Lineup
Lecture with Pegah Roshan and Ismael Soto
Wednesday, July 7 at 1 PM PDT
Join us for a discussion with Pegah Roshan and Ismael Soto, designers at Rios Clementi Hale Studios.
Learn More
Lecture with Benjamin Freyinger and Karin Liljegren
Thursday, July 8 at 1 PM PDT
Join us for a discussion with Benjamin Freyinger, Co-Principal and Co-Founder of The LADG and faculty at UCLA AUD and Karin Liljegren, Founder of Omgivning.
Learn More
Lecture with Lucia Atwood of the Eames House
Friday, July 9 at 1 PM PDT
Join us for a discussion with Lucia Atwood, founder of the Eames Foundation.
Learn More
Lecture with Kristy Balliet and Sarah Moylan
Tuesday, July 13 at 1 PM PDT
Join us for a discussion with Kristy Balliet, Principal of Balliet Studio and Sarah Moylan, MVRDVs Head of Business Development.
Learn More
Lecture with Keith Berry and Erin Day
Thursday, July 15 at 1 PM PDT
Join us for a discussion with Keith Berry, Associate Director of Architectural Systems Management at Arktura and Erin Day, Robotics Technician at William Kreysler & Associates Inc.
Learn More
Lecture with Benjamin Ennemoser and Yara Feghali
Tuesday, July 20 at 1 PM PDT
Join us for a discussion with Benjamin Ennemoser, an architect and researcher based in Los Angeles and Yara Feghali, Principal of FollyFeastLab and faculty at UCLA AUD.
Learn More
Lecture with Brennan Buck and Michael Pickoff
Thursday, July 22 at 1 PM PDT
Join us for a discussion with Brennan Buck, Co-Founder of FreelandBuck and Michael Pickoff, Designer and Project Manager at Peter Tolkin + Sarah Lorenzen Architecture (TOLO).
Learn More
Lecture with Ebrahim Poustinchi and Simi Shenoy
Tuesday, July 27 at 1 PM PDT
Join us for a discussion with Ebrahim Poustinchi, Assitant Professor at the Kent State University College of Architecture & Environmental Design and Simi Shenoy, Product Mangaer in AR and VR at Magnopus.
Learn More
Lecture with Lindsay Erickson and Craig Hodgetts
Thursday, July 29 at 1 PM PDT
Join us for a discussion with Lindsay Erickson, Senior Associate at Johnston Marklee and Craig Hodgetts, Co-Founder of Hodgetts + Fung and Professor Emeritus, UCLA AUD.
Learn More