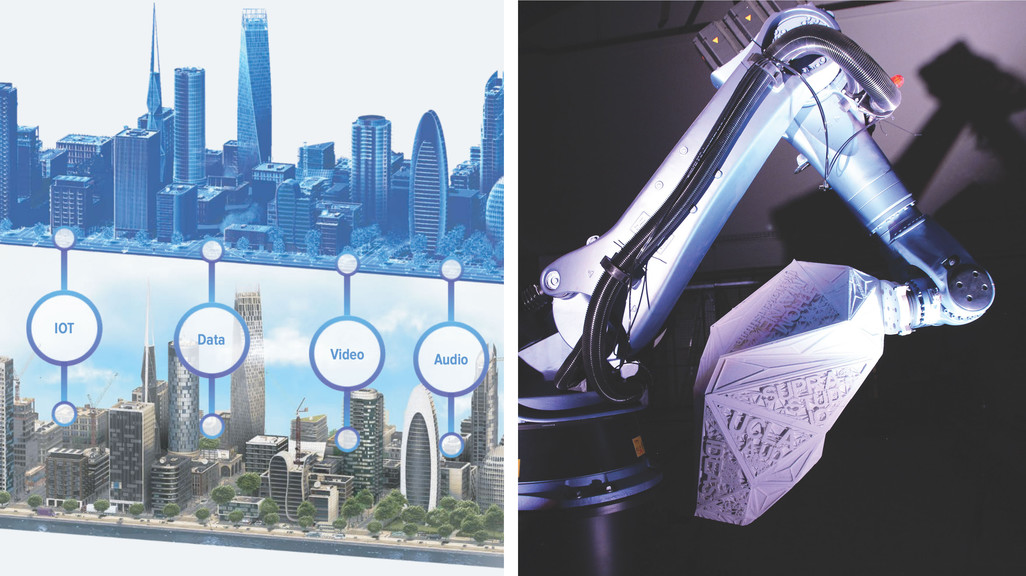 July 27, 2021, 1:00 PM – 2:00 PM
Join us for a discussion with Ebrahim Poustinchi and Simi Shenoy on Tuesday, July 27 at 1 PM PT.
Ebrahim Poustinchi, an award-winning designer, artist, curator, and inventor, is the founder/director of the Robotically Augmented Design (RAD) Lab, founding principle of the STUDIO EP, and Assistant Professor of Architecture at Kent State University. Poustinchi's research is focused on the intersection of design, space, media and robotics, with an emphasis on an alternative reading of "post-digital" discourse through UI/UX, Human-Machine Interaction (HMI), and physical computation and tangible interfaces. Ebrahim has widely lectured, taught workshops, and exhibited his work nationally and internationally. His research and creative work have been disseminated worldwide in various Journals, conferences, galleries, and museums including the International Journal of Architectural Computing (IJAC), Journal of Engineering Technology (JET), ACADIA, CAADRIA, eCAADe, SIGraDi, ASCAAD, ASCA, the Museum of Moscow and the Meyerhold Theatre Center in Russia, the Arab American National Museum in Michigan, Jan Koniarek Gallery in Slovakia, Fully Booked Art Fair in Dubai, and Levantine Cultural Center, Architecture and Design (A+D) Museum in Los Angles, and over ten different galleries, and museums in Iran. He currently serves as the guest curator at the Architecture and Design (A+D) Museum in Los Angles.
Simi Shenoy is Lead Product Manager at Magnopus, an Experience Company forging design, art, and technology to create new experiences across AR & VR. The last 5 years of her career were spent leading teams building AR/VR products for Fortune 100 companies in Architecture, Telecommunications and Entertainment. With a Master's in Architecture from UCLA's Singularity Studio, her area of expertise lies at the cross-section of human centered design and emerging technology.
Our Summer Lecture Series invites speakers whose creative, professional, or scholarly practice serves as an inspiring model for participants of UCLA AUD's Teen ArchStudio and JumpStart Summer Programs. In these discussions, we'll learn what motivates their work, what research or design methods they use, and how their practice relates to the work of others and to your cultural perspective or values.
JOIN LECTURE
Learn more about our high school and college-level Summer Programs.