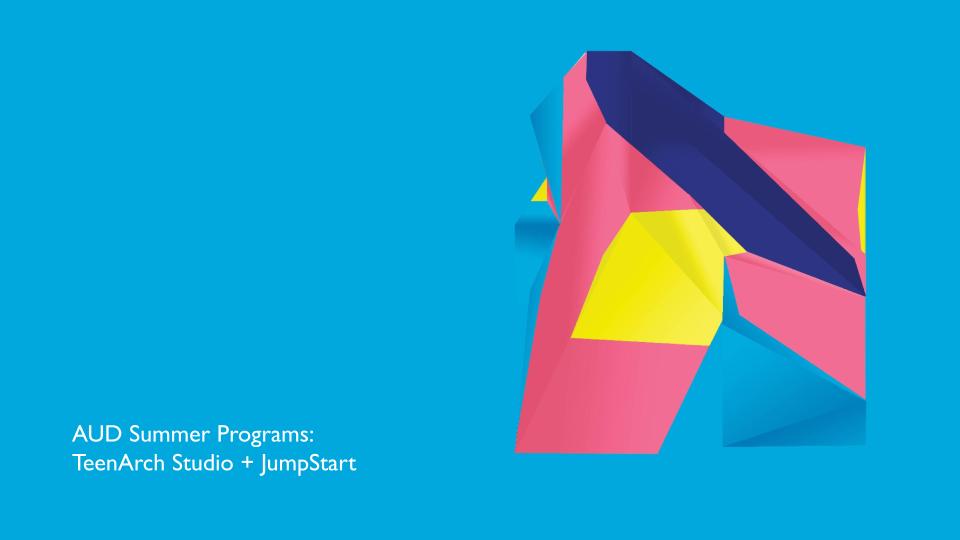 UCLA Architecture and Urban Design offers two immersive, intensive summer programs—TeenArch Studio, and JumpStart—that give participants a glimpse into the study and practice of design. Structured around the design-studio experience typically offered in a college-level architecture program, each program develops and advances design skills through space, form-making, and related 2-D and 3-D representation techniques.
For Summer 2022, JumpStart and TeenArch Studio are offered in both in-person and remote formats, with JumpStart opening on July 5 and TeenArch on July 11, and each culminating at the end of July. Both programs are directed by Julia Koerner, an Assistant Adjunct Professor at AUD and an award-winning designer working at the convergence of architecture, product, and fashion design. (Koerner was recently interviewed for the Netflix series "The Future Of," contributing to the forthcoming episode on the future of fashion. See below for a gallery of her work.)
Ahead of the programs' summer 2022 kick-off, Koerner offered some previews of what is on tap for participants, and what inspires her as she designs the programs' pedagogy.
How did you first get involved in AUD's Summer Programs, and what have been the most exciting aspects of the work?
I have directed AUD's Summer Programs since Fall 2020, leading both the JumpStart and the TeenArch program. One of the most exciting aspects of this work has been redesigning both programs to now offer in-person as well as online pedagogy, and to open them to diverse participants from other parts of California, across the United States, and around the world. I am always excited to manage a wonderful team each summer, and to collaborate with many continuing AUD students and recent graduates.
The Summer Programs present case studies to frame and inform work over the rest of the summer. Last summer, the Eames House was a model for JumpStart; this summer, it's the Monsanto House of the Future. What informs your choice of case studies and how do students benefit from them?
We aim for a topic that has a strong relationship to Los Angeles and the architecture that surrounds us here in California and at UCLA. We also aim to inspire students to look at novel construction techniques and innovative materials while also introducing them to digital design techniques. The Eames House and the Monsanto House are particularly interesting in regards to their construction, as they were designed utilizing pre-fabrication. Both the Eames House and the Monsanto House have had a strong impact on architecture history and theory in LA and the development of residential designs and housing. Also, since our participants are generally new to architecture, this scale of building helps students to enter and access the various mediums of design.
Promising "plastic, fantastic living," the designers of the Monsanto House of the Future were experimenting; as a designer, you do an incredible amount of fascinating work, experimenting with new ways of both designing and producing–3D printing, plant-based and sustainable materials, and entirely new ways of not only designing an item but also thinking of its entire line of production. What inspires you about the Monsanto House, and what do you hope to investigate with students?
The Monsanto House is a fascinating case study in how design, geometry, material, fabrication, and construction tie together. In my research and professional practice, I am inspired by nature and biomimicry; there is a lot to learn from the various biodiverse systems in this world. I am especially fascinated by how structures grow with a single materiality in nature, and how structure performs or reacts to its environment. I see great opportunities for research and application of these phenomena in architecture. [Editor's note: see below for a gallery of Koerner's work.] With 3D printing, each printed component can be slightly different, since you don't work with formwork and use only the amount of material truly necessary; you can create single-material building elements that can be different in their structural performance, whether by material or by geometry. Furthermore, the idea of local production and engaging local resources is something I consider a fascinating opportunity with this technology, and quite contemporary given that we have to rethink construction methods in light of climate change. The Monsanto House was the first house composed of composite fiber materials, and it still serves as a great example for an avant garde approach towards building materials and innovation.
What is special or important about doing that sort of experimentation and investigation at the start of a design education?
It is my ambition to teach students what will be relevant ten years from now, to educate them about future technologies and materials. Some of these topics include bio-materials, as well as accessibility, affordability, and constructability of housing in the future. Especially in Los Angeles, where the single-family home covers the majority of the city's footprint, it is important for young designers to learn about the history of residential buildings and about the theories behind housing, but also about innovative design processes, different materials, and the various possibilities for this city to densify. One example we will study this summer are the recent design developments of Accessory Dwelling Units, or ADUs, which are increasingly engaged as a housing typology in Los Angeles.
We're fortunate that both Eames House and Monsanto, as well as so many other significant design projects and ideas, are based here in California. How do our Summer Programs benefit from being in California and Los Angeles? What other sites and projects do you visit and study?
California has a great biodiversity not only from a climatic and geological point of view, but also in terms of diversity of people. California is a melting pot where the arts, science, and technology merge. With Hollywood next door to Westwood, you often feel you are actually on a movie set while navigating different neighborhoods and areas of the city.
We offer in-person and virtual field trips as part of both programs. With TeenArch, we focus on inspiring architecture and buildings across Los Angeles, designed and built by award winning and Pritzker Prize-winning international architects. This year we will visit the Academy Museum of Motion Pictures Dome by Italian architect Renzo Piano, the Broad Museum by Diller & Scofidio, the Walt Disney Concert Hall by LA-based Frank Gehry, and the Moneo Church by Spanish architect Rafael Moneo. With JumpStart, we visit well known architecture offices, including the studio of Pritzker Prize-winning architect Thom Mayne and the offices of AUD faculty Kevin Daly and Greg Lynn. Other inspiring sites include the Eric Owen Moss Village and the MAK Schindler House, one of the famous case-study houses of Los Angeles. We also offer virtual programming, with films and virtual tours running simultaneously for those participants who are joining us remotely.
Furthermore, we offer public programming during the month of July, where AUD alumni and faculty present an exciting Summer Programs Lunchtime Lecture Series, which take place either remotely or in hybrid formats each Tuesday and Thursday in July at 1:00 pm PST.
You've been directing AUD's Summer Programs for several years. What are some of the things that keep you interested in teaching and leading these programs?
One of the best aspects of the Summer Programs is the exciting feedback that we receive from students. Some of them are joining from faraway places in the world and are having their first experiences in architecture here at UCLA with us. The testimonials they share with us are showcasing that we offer them an experience of a lifetime, and many of them come back to study with us in the undergraduate or graduate programs at AUD or even return to teach in the Summer Programs later on in their studies and careers.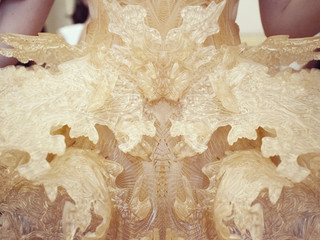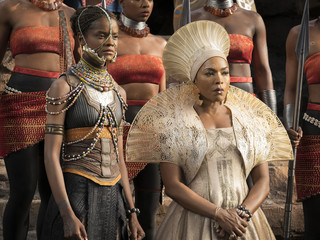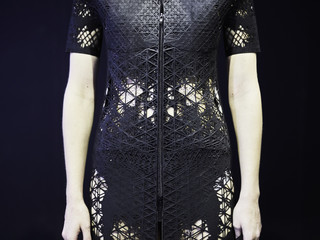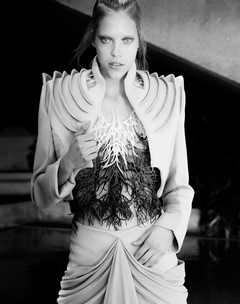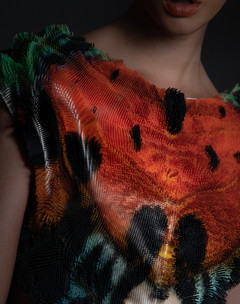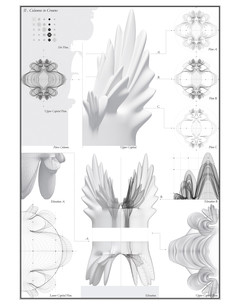 3D Printed Hybrid Holism Dress by Julia Koerner and Iris Van Herpen (2012) Image credit: Sophie Van Der Perre

Julia Koerner Collaboration with Costume Designer Ruth Carter Black Panther. Photography: Marvel Disney (2018)

Julia Koerner 3D Printed Venus Dress (2016). Photography: Sophie Kirchner

Julia Koerner 3D printed Kelp Jacket Sporophyte Collection. Photography: Ger Ger for SCHÖN!

Julia Koerner SETAE Stratasys (2019). Photography: Ger Ger

Julia Koerner with Kais Al Rawi for Amman Design Week Columns to Crowns (2019)