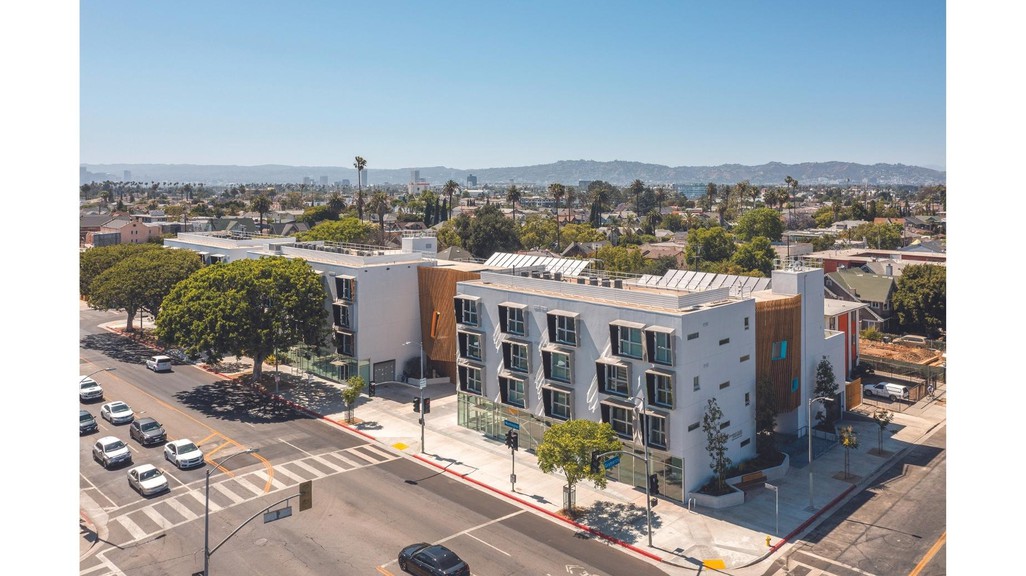 AUD's Kevin Daly and his practice, kevin daly Architects, are among the 24 recipients of the 2022 AIA Los Angeles (AIA | LA) Residential Architecture Awards. Daly earned a Merit Award in the Affordable Housing category for his "Gramercy Senior Housing" project.
"The suite of winners demonstrates design excellence for all residential types, coupled with an ongoing commitment by Los Angeles-based architects to alleviating the housing crisis through new shelter that expands possibilities for those who have lived without," observes AIA | LA in a press release.
AIA | LA's Residential Architecture Awards are among the institute's four awards categories, alongside Design Awards, Restaurant Design Awards, and Architectural Photography Awards. Within the Residential Architecture Awards, recipients are awarded with Honor, Merit, or Citation awards, "Honor" being the highest.
Completed in 2021, "Gramercy Senior Housing" is a 70,000-square-foot complex on a block-length lot in Los Angeles, a site formerly used as a towing yard. The project is one of the first to use City of Los Angeles-sponsored Proposition HHH, or Supportive Housing, funds. kdA collaborated with Gramercy Construction.
The 2022 AIA|LA Residential Architecture Awards jury commended "Gramercy Senior Housing" for its "playful architectural residential design" and facade, and for its potential to "allow aging in style."
Daly and kevin daly Architects (kdA) have notched a range of awards in the past. kdA was honored in both the 66th annual (2019) and the 69th annual (2022) Progressive Architecture Awards, for projects "Little Berkeley" in Santa Monica, and "Low Rise Housing" in Los Angeles, respectively. In addition to over forty state and local AIA design awards, Daly's work has been recognized with three National AIA Honor Awards, a Gold Medal from the Bruner Foundation, and a Millennium Award from Global Green. kdA also received the inaugural AIA|LA Firm of the Year Award in 2009. Alongside this recent AIA | LA honor, "Gramercy Senior Housing" has been awarded the 2021 AIA-California Residential Award (Merit and Leading Edge honors), and earned one of AIA|LA's NEXT LA Awards in 2020.
Daly teaches a variety of courses and studios at AUD. His systematic design process engages material and technical research, employing traditional and digital design and representation processes at multiple scales. Intervention and experimentation with normative construction systems is a hallmark of the firm's work: a belief in the creative potential at the low end of available technology has been a guiding premise in the improvisational urbanism that characterize many of the firm's Los Angeles projects.
Daly's work has been published widely and has received numerous awards beginning with is earliest experimental designs for the Valley Center House, the Camino Nuevo Charter Academy and the Art Center College of Design South Campus. He continues to explore urban housing issues and density, both in collaboration with UCLA's cityLAB and via his own firm. Broadway Affordable Housing and Bi(h)OME received National AIA Honor awards and are transforming the model for contemporary social housing design.