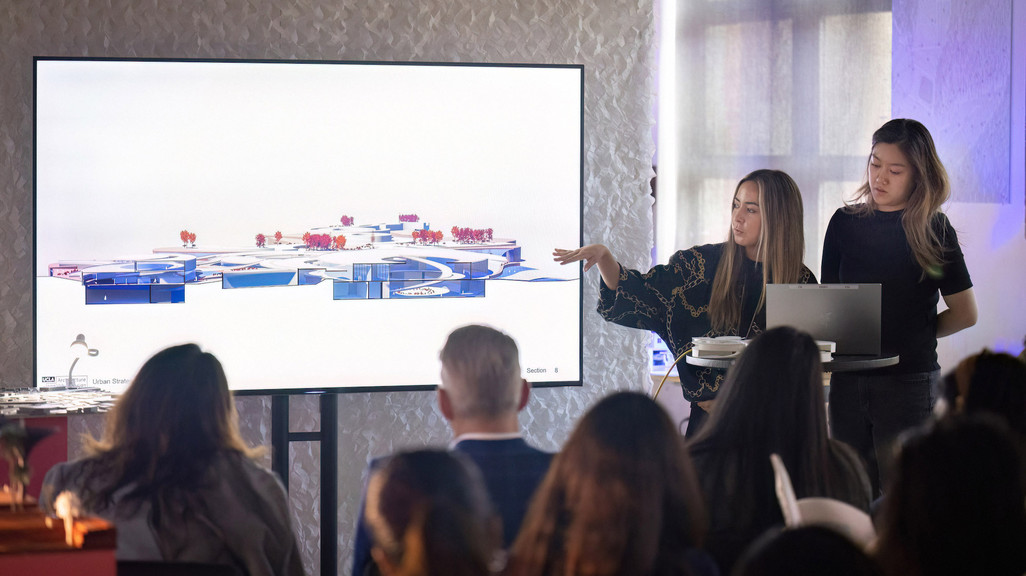 November 6, 2023, 1:30 PM
UCLA AUD is happy to open Perloff Hall to interested prospective students on Monday, November 6, as our Fall 2023 midreviews are kicking off. This event is free and open to any interested applicants.
Open Studio Day will begin at 1:30 pm in Perloff Hall Gallery with a welcome presentation from Vice Chair Kutan Ayata, before visitors are welcome to browse the range of reviews and studio activities taking place; a full schedule of reviews appears below. Visitors will also be invited to take Perloff Hall tours led by current AUD students, getting a full look at the AUD experience.
Please register in advance via Eventbrite, and email admissions@aud.ucla.edu with any questions.
Paid parking is available on UCLA's main campus (Parking Structure 3 is recommended). UCLA AUD is not able to provide lodging, transportation, or other travel accommodations.
Please access Perloff Hall via the Perloff Hall Courtyard, in the center of the building; Perloff Hall Gallery's entrance is on the east side of the Courtyard.
Schedule of reviews on view: Monday, November 6, 2023
Major Building Design with Landscape Studio (second-year MArch Core)
Narineh Mirzaeian (Coordinator), Samaa Elimam, Jason Payne, Mohamed Sharif
Rooms: Perloff B227, Perloff DeCafe
2:00 to 6:00 pm
Advanced Topics Studio: "Modernism X You" (third-year MArch)
Neil Denari
Room: Perloff 1209B
12:30 to 6:30 pm
Advanced Topics Studio: "Latent Architecture" (MSAUD and third-year MArch)
Matt Conway
Room: Perloff 1243C
12:30 to 6:30 pm
Advanced Topics Studio: "Architectures of Performance" (third-year MArch)
Simon Kim
Room: B320 (The Orange Room)
12:30 to 6:30 pm
Advanced Topics Studio: "Narrative Engineering" (MSAUD and third-year MArch)
Natasha Sandmeier, Liam Denhamer
Room: Perloff 1118
12:30 to 6:30 pm