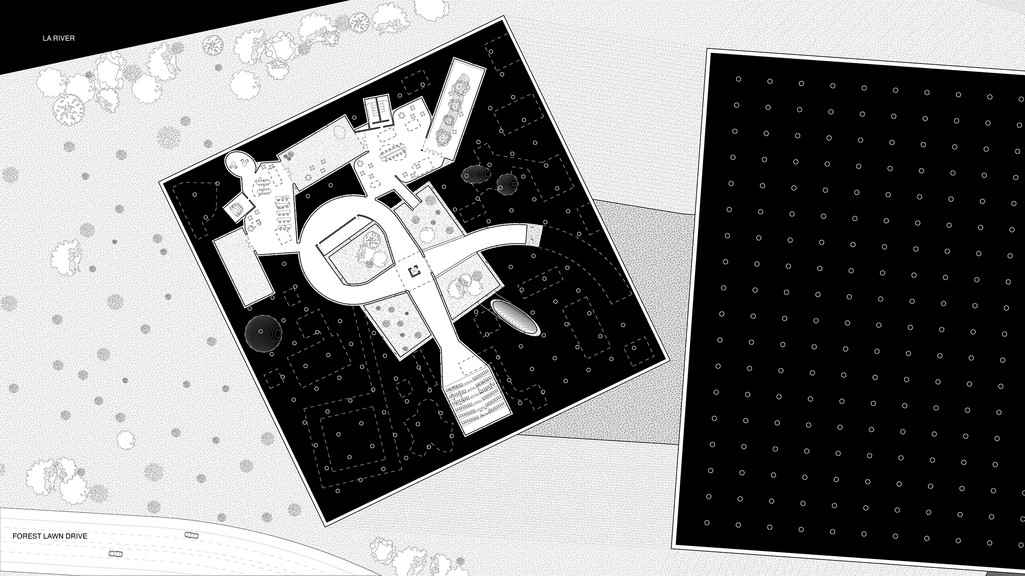 414 Major Building Design Studio
2021
Los Angeles is in constant battle with the environmental realities that determine its geographic situation; be it the trembling unstable ground, be it the wildly ranging topography, be it the wildfires, be it excessive temperatures, be it the scarcity of water; the city is under constant pressure to sustain its ever-sprawling metropolitan life, especially through this very moment in time as climate change exasperates the effects of its immediate environmental context. This requires massive infrastructural implementations and innovation to support all the human habits of living as a collective in the city. In an era, when we are transitioning towards softer and invisible infrastructures, Los Angeles' need for physical and extensive infrastructures that provide its natural resources are very much present and critical for its survival as a city.
In the face of adverse climate change which results in drier air, less sustained rain and more frequent droughts, the most pressing issue in Los Angeles is the supply of natural water to the city. Historically too, enabling the supply of water to this desert town has always been an extensive effort. A massive network of infrastructure provides the flow of water into the city, mostly the result of melted snow from hundreds of miles away. The main sources of water comes from Sierra Nevada Mountain Range through surface aqueducts and tunnels. The water, once in the metropolitan territory is managed by a vast network of dams, reservoirs, channels, and pumping stations to finally deliver water to the individually operated faucets. The excessive water infrastructure that is required to sustain this sprawling city, at times defies logic and escapes our attention as a background of our reality.
We often register the advancements of civilizations by how they develop their essential civic infrastructures which help organize and enable the ever-evolving needs and desires of their collective experiences. In the current day metropolis, these infrastructures are maintained and managed by (public/private) institutions which mediate between cultivation, delivery, and citizen experience. In this sequence, the architect most often than not, only takes on the speculation (if any) on spaces of bureaucracy. In a discipline where ambitious statements are always renewed about the cultural impact of what architecture can be, our lack of influence and participation in the imagining of civic infrastructures which goes to the heart of equal and just distribution of resources to the public should be deeply concerning.
What could be the agency of Architecture in reimagining natural resource infrastructures?