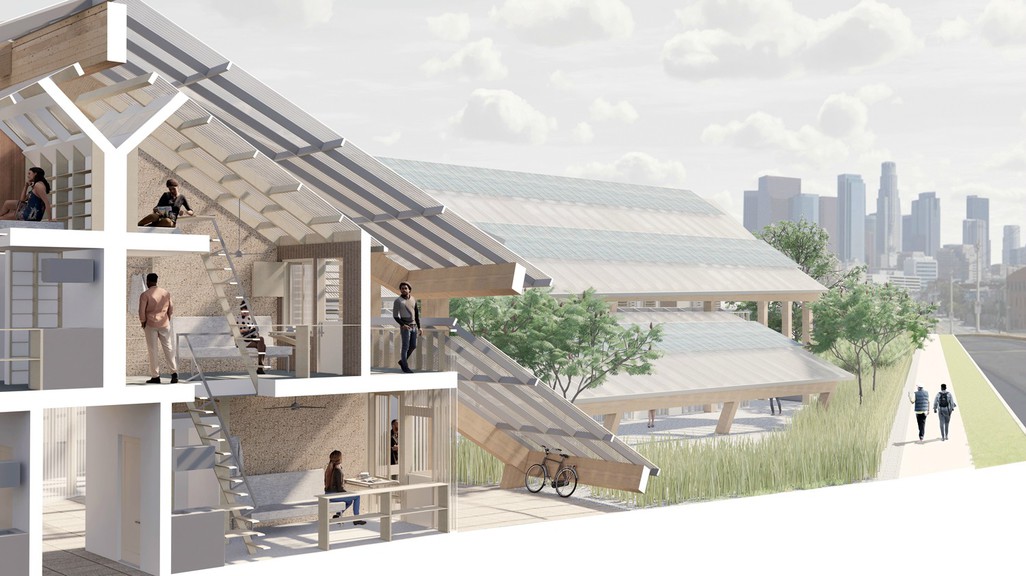 Long before the pandemic hit Los Angeles, homelessness was widely regarded as one of the city's most urgent problems—an ugly fact of life in one of the world's wealthiest cities. As home prices and rents ballooned in the past decade, more and more people had to trade the roof over their heads for a friend's couch, a car packed with all their belongings, or a tent on a hot, dusty sidewalk. COVID-19 has only exacerbated this crisis. According to the Los Angeles Homeless Services Authority, more than 66,000 homeless people are now living on the streets of L.A. County. As unemployment spikes and pandemic relief funds dwindle, the number of people facing foreclosure or eviction is expected to double.
Everyone agrees that the city needs more housing for low-income and homeless Angelenos. But steep construction costs, insufficient housing subsidies, and time-consuming regulations have hampered efforts to meet the demand. Even some proponents of affordable housing balk at the prospect of hosting the homeless in their backyards. Critics complain that such projects threaten the character of their neighborhoods and increase congestion. Others worry about rising crime rates and plummeting property values. But what if the design of affordable housing could address these objections? Is it possible for smart architects to short-circuit community opposition?
Dana Cuff, a UCLA professor of architecture and urban design, thinks so. In 2017, she increased housing density in L.A. by coauthoring a state law that made it easier for people to build accessory dwelling units (ADUs)—aka granny flats—in the backyards of single-family lots. "We need to change the general—and misplaced—prejudice against affordable housing with housing that is smaller, targeted, and well-designed, and fits within the community," she says. "We need to make more neighborhoods for more neighbors."
Over the past year, Los Angeles invited 13 of the city's top architectural firms to leverage their design expertise to come up with innovative concepts for affordable or permanent supportive housing. Their ideas, which include maxxing out the number of ADUs on a lot and devising mobile dwellings that fold out of a suitcase, range from the eminently doable to the futuristically far-out. The concepts highlighted here make clear that building housing for everyone in L.A. who needs it is going to require out-the-box thinking; mind-boggling amounts of money, land, and labor; and major political muscle. Can Los Angeles summon the will to finally solve its long-festering housing crisis? As the ranks of the homeless continue to grow, a better question might be: can it afford not to?
UCLA AUD faculty member Roger Sherman led Gensler's offering:
Made in the Shade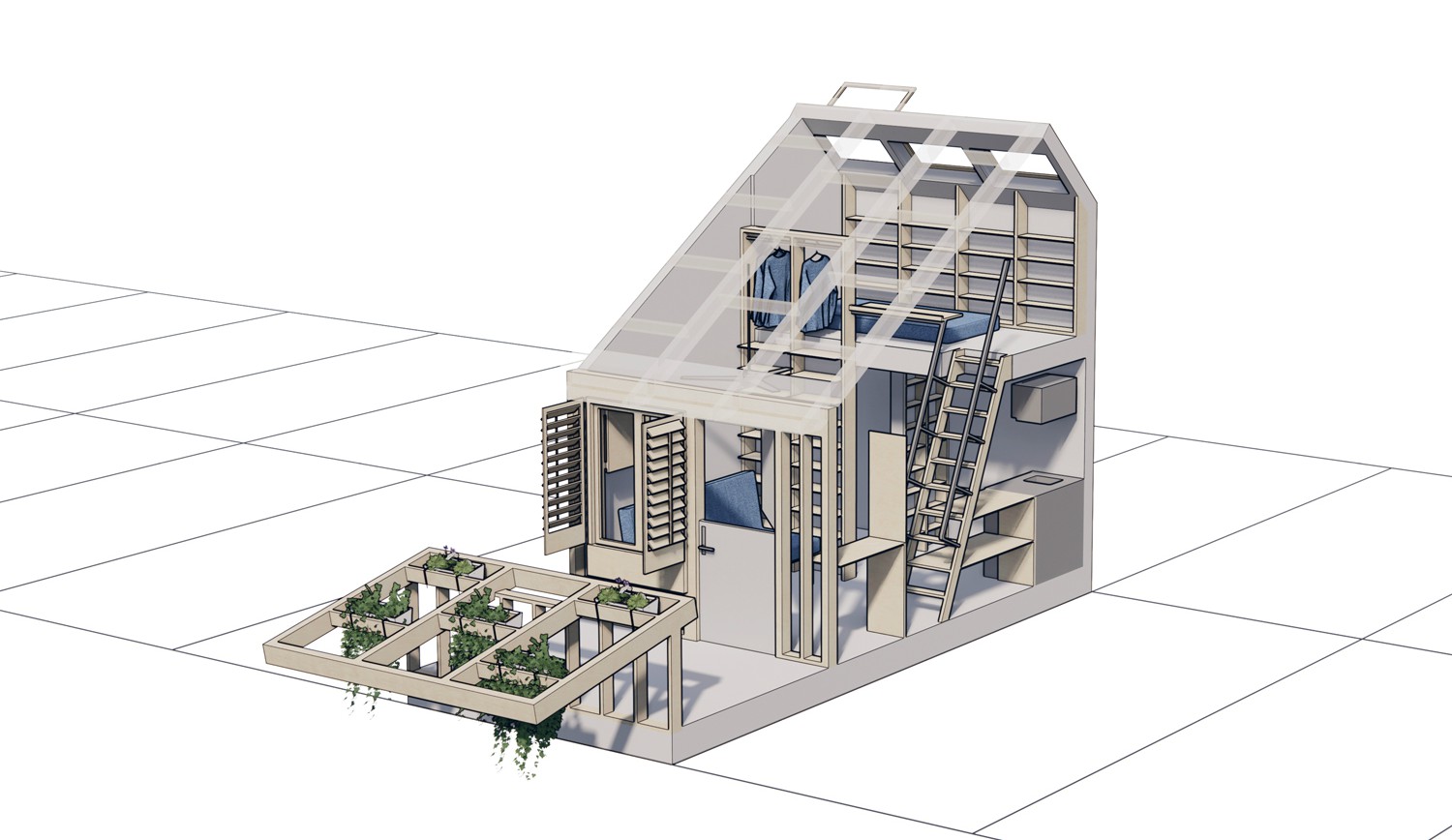 The big idea: Sustainable materials such as cork, linoleum, and recycled carpet and tile would decorate compact residences topped by slanted roofs, while shade awnings over buildings and garden areas would harness Southern California's temperate climate for more-energy-efficient, less-costly housing.
Key features: Each small unit would contain a sleeping loft, a built-in dining table and shelves, and a kitchen and a bathroom. A sofa bed would transform the living area into an extra bedroom. Units would be prefabricated, then assembled on-site to cut construction waste and time.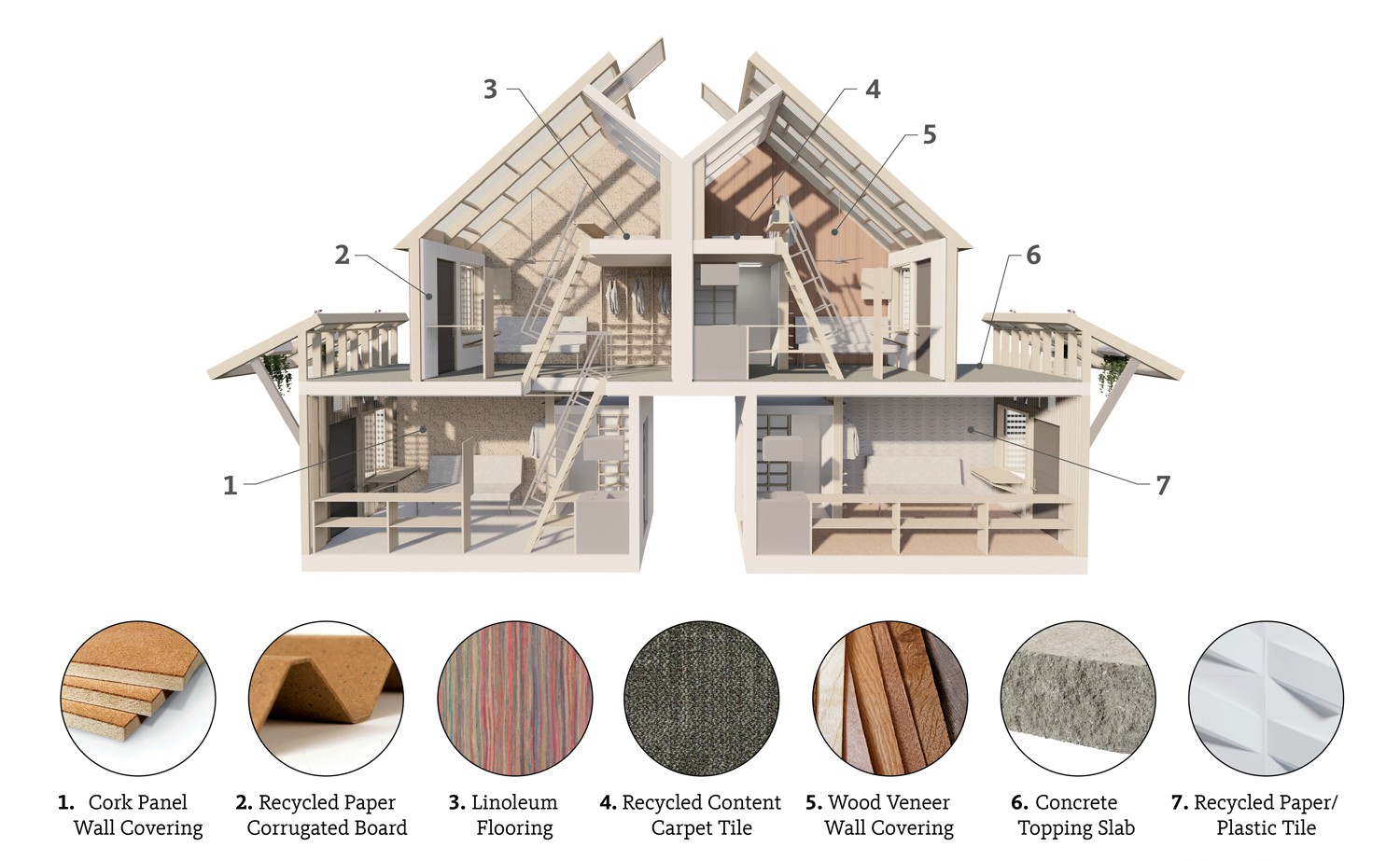 How it would work: Ceiling fans and plenty of windows would provide natural ventilation, minimizing the need for air conditioning. A transparent roof on upper units would reduce dependence on artificial lighting. Low-flow fixtures and native landscaping would capture rainwater and lower water use.
The upside: "This concept's emphasis on indoor-outdoor living makes it ideally suited to coping with future pandemics," says architect Roger Sherman. "It also solves the problem of loneliness—shifting the preponderance of living spaces from the units to oasis-like, communal 'porches' protected from
the elements."
This post is an excerpt of the full article. Check out the full list of proposals at Los Angeles Magazine.