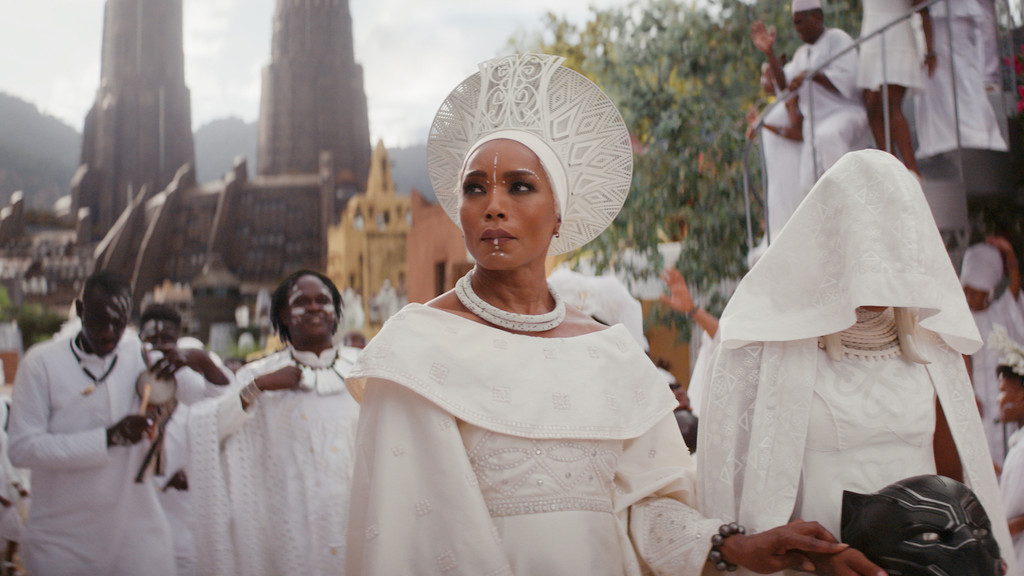 News
Faculty
AUD's Julia Koerner collaborates with Marvel, costume designer Ruth Carter on 3D-printed pieces for "Black Panther: Wakanda Forever"
Following the international success of Marvel Studios' "Black Panther" series, UCLA AUD's Julia Koerner collaborated again with famed costumed designer Ruth Carter to create 3D-printed costumes for "Black Panther: Wakanda Forever," which debuted in cinemas on November 11.
Carter and Koerner previously collaborated on a 3D-printed crown and shoulder mantle for "Black Panther"'s Queen Ramonda, portrayed by Angela Bassett. Carter received an Academy Award for Best Costume Design in 2019 for bringing Afrofuturism to the big screen.
For "Black Panther: Wakanda Forever," Carter and Koerner developed a new 3D-printed crown and neck-piece for Queen Ramonda. (The film also features the crown from their first collaboration.) The designs were developed using advanced digital design technologies and feature a highly complex and intricate design that can only be made with 3D-printing. The crown and neck-piece were manufactured using selective laser sintering.
Koerner is the founder of design office JK3D, with locations in Vienna and Los Angeles. Koerner researches and designs at the convergence of architecture, fashion, and product design, and has collaborated with fashion designers and brands, costume designers, and global brands such as Swarovski, Iris Van Herpen, and Chanel's Maison Lesage among others on iconic 3D-printed designs. Archinect dubbed her "Architecture's Queen of 3D Fabrication."
Koerner teaches throughout AUD's curriculum and directs its two Summer Programs, TeenArch and JumpStart. She is currently leading an AUD research studio entitled "Fit for the Future: 3D Printed Sustainable Building Skins," running year-long through the 2022-2023 academic cycle. Ths studio investigates the connections between fashion and the "skins" of buildings, researching how future building skins may be innovated with sustainability and extreme climates in mind. Koerner and the studio were recently awarded AUD's Charles Moore Traveling Studio prize, supporting studio travel to Vienna; there, the studio will visit both historical buildings as well as cutting-edge digital fabrication sites, including specialists in 3D printing of concrete and various sustainable building materials.
Koerner's work has been internationally exhibited and published in institutions such as the MET in New York, MAK in Vienna, Phoenix Museum of Art, Ars Electronica, Art Institute of Chicago among others, and published in National Geographic, WIRED, New York Times, among others.
Koerner has previously taught at the Architectural Association Visiting School, University of Applied Arts in Vienna and Lund University. She holds Master degrees from the Architectural Association in London, and the University of Applied Arts in Vienna.