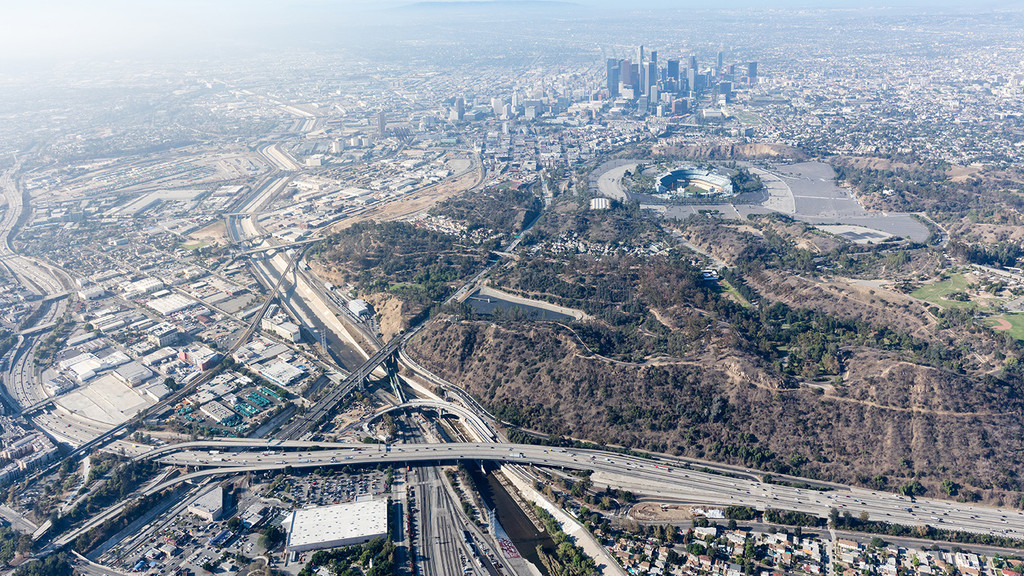 How do we go about shaping a better city? How can land use and urbanism be explored to create solutions for pressing urban problems? Can multidisciplinary approaches to urban planning help create new ways of defining and shaping urban growth?
In Los Angeles, ubiquitous and challenging land development conditions have positioned the University of California, Los Angeles Department of Architecture and Urban Design to unpack these topics and explore them like perhaps no other school of design can. An institution that focuses on collaborative research between its students and faculty, UCLA AUD strives to create learning environments fueled by experimentation and discovery. As a means to highlight the initiatives being focused on at the school, Archinect spoke with Associate Adjunct Professor, Jeffrey Inaba, and lecturers David Jimenez Iniesta and Gillian Shaffer of UCLA AUD's IDEAS Urban Strategy Studio. The studio is one of four research topics: Entertainment (studio previously covered on Archinect), Mobility, Technology, and Urban Strategy, offered as part of the one-year post-professional Master of Science in Architecture and Urban Design (M.S.AUD) program available at the institution's IDEAS campus.
Together, we discussed common misconceptions students have when learning about urbanism and land use. Inaba stated, "We try to shift our students' frame of reference to understand the goal of urbanism as an effort to meet these really universal human needs in an inventive and radical way that uses the administrative systems that are in place."
Jeffrey, what is "urban strategy," and how would you describe the IDEAS Urban Strategy Studio?
Urban strategy involves studying how contemporary cities evolve — the forces that affect their growth and decline. The IDEAS Urban Strategy Studio digests this information, and we come up with urban design proposals that channel resources to respond to the most urgent challenges for cities like Los Angeles, such as climate change. Our particular point of view is that these challenges are opportunities to envision a better city; a city with new kinds of urban spaces and types of buildings. We want to work with planners, the real estate community, architects, and communities to improve the quality of our urban environment.
You've had the opportunity to teach and work with several prominent architectural institutions. What excites you most about working within UCLA's M.S.AUD program at the IDEAS campus?
In the 20th century, New York established and refined the American building types for working and living — the skyscraper and the apartment building. But today, who wants to work in an air conditioned open office or live in an overheated or underheated apartment?
In LA, there are great examples of work and residential architecture attempting to develop spaces for working and living. They design for people to be outdoors and not stuck in a HVAC envelope, to enjoy moving around and experiencing their neighborhood and not be bound to one place, and try to be creative with the zoning and real estate realities of big cities. What excites me about UCLA and the city is that this is where the work and living types for today are fomenting, and the IDEAS Urban Strategy Studio will hopefully contribute something to them.
If New York was great at creating a model of development based on building efficiency, what seems to be happening in California are experiments to understand basic human needs like interacting with people, enjoying the outdoors, and tranquility in super realistic economic ways.
In your opinion, what do you think is a common misconception students have when learning about land use and urbanism?
From the immediate and close up perspective, they seem impenetrably complex. We try to shift our students' frame of reference to understand the goal of urbanism as an effort to meet these really universal human needs in an inventive and radical way that uses the administrative systems that are in place.
What does "urban strategy" mean to you? In your opinion, what do you think are common misconceptions students have when learning about land use and urbanism?
To help further define the studio, David Jimenez Iniesta and Gillian Shaffer share their perspectives. Together they discuss their thoughts on "urban strategy" as the work toward shaping students who can become agents of change within the practice of urban planning.
David Jimenez Iniesta (DJI): In general, urbanism has been traditionally taught as a problem solving-oriented practice that simplified questions to very specific and close up scales, isolating the answer from other agents equally important in urban development. We understand urban strategy as a set of tools to observe urban conditions from a myopic and hypermetropic perspective where students should switch lenses and research on multiple scales; from the territory and infrastructure to domestic urban planning.
The real challenge is to propose an exercise that takes into consideration all these different agents and partners that are involved (directly or indirectly) in urban design as an open collaborative process (architects, urban planners, landscapers, engineers, developers and real estate investors, politicians, sociologists, neighbors…) without giving up the possibility to propose radical vision plans for the future of LA. Fictions and speculations that let architecture go beyond simple storytelling, that establishes links and debates with contemporary milieus.
Gillian Shaffer (GS): I like to think in terms of Rem Koolhaas's urban operating systems. With this in mind, urban strategy involves first a close analysis of the different components and flows within a city, the forces that shape them and the challenges they face. Putting cities in a global context and making comparisons can also be valuable for testing how certain interventions might perform in relevant urban situations. This reading of cities then informs the construction of radical new narratives and visions, which aim to address its challenges and in turn produce new opportunities through the crystallization of ideas into form. Urban strategy is also inherently cross-disciplinary, involving research, theory and design, and collaborations with planners, developers, architects, and communities to create alternative future urban environments.
In both practice and academia, we need to think carefully about topics like how our physical cities will be shaped by new technologies, how our culture will be defined by these technologies, and how we as a discipline will address the changing environmental conditions of the Anthropocene through the mode of design.
This post is an excerpt. Read the full article on Archinect.com.
| | |
| --- | --- |
| Related Faculty | Jeffrey Inaba, Gillian Shaffer, David Jimenez Iniesta |