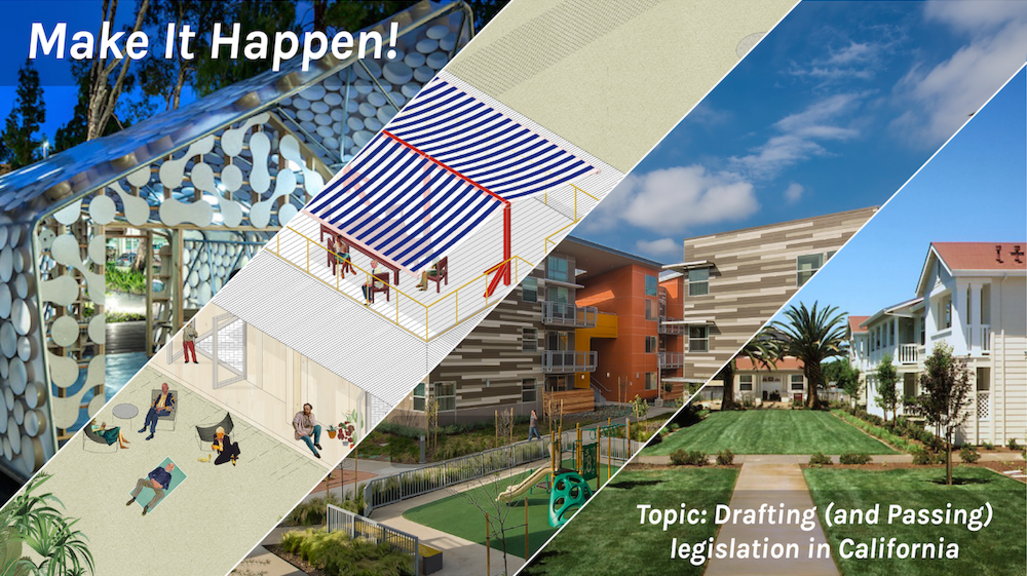 UCLA Architecture and Urban Design Department's (AUD) cityLAB is introducing a new bi-monthly event series, "Make It Happen!," to illuminate the process of bridging design research and action. The series opens on Monday, April 18, at 12:00 pm (Perloff Hall DeCafe) with "Drafting (and Passing) Legislation in California," featuring cityLAB director and co-founder Dr. Dana Cuff in conversation with Jane Blumenfeld, former Deputy Director of the Los Angeles Department of City Planning, and Arianna Bankler-Jukes, Public Affairs Manager at Southern California Association for Non-Profit Housing (SCANPH).
Together, Cuff, Blumenfeld, and Bankler-Jukes will discuss drafting and passing AB2299, the Accessory Dwelling Unit (ADU) bill that doubled the density of California's single family zones; in-progress AB2295 which will streamline Education Workforce Housing for teachers on public school lands; and forthcoming ballot measure "United to House LA," a real estate transfer tax projected to generate $875 million annually for low income housing.
Founded in 2006, cityLAB is a multidisciplinary design research center focused on leveraging design for spatial justice and addressing contemporary urban concerns. Now in its 15th year, cityLAB's wide range of projects situate and enact interventions for spatial justice in contemporary urban issues, urban design, and the architecture of the city. Combining rigorous scholarship, design excellence, and practical implication with formal explorations and theory, cityLAB's projects link community partners, government actors, and students & educators to new ways of visualizing and activating policy, design, and programmatic interventions.
"cityLAB's efforts, all fueled by the intelligence of AUD students and faculty, are effective because UCLA is such an incredible launch pad for innovative ideas," Cuff observes. "The kinds of design experiments we hatch are all backed by solid research and that is very convincing."
cityLAB's various projects demonstrate the bridging of intensive, holistic design research with tangible outcomes, whether via policy, in physical form, or–as is often the case–a synthesis of the two. The lab's most recent report, "Education Workforce Housing in California: Developing the 21st Century Campus," provides a comprehensive overview of the potential for land owned by school districts to be designed and developed for teachers and other employees, illustrating that each county in California has public land to build housing for teachers and school staff. The project's companion handbook breaks down the research undergirding these conclusions, as well as practical steps to begin addressing them. And many a UCLA student has benefited from cityLAB's "BruinHub," which synthesized years of research and advocacy with architectural design and construction to create an innovative solution to a nest of issues, primarily housing insecurity, extreme commutes. The giant, jellybean-like "pods" that resulted have offered a 24/7 space with facilities for students to nap, stay overnight, study, store belongings, or wait out traffic. [Explore other recent cityLAB projects.]
"Make It Happen!" is a bi-monthly, year-long event series. Subscribe to the cityLAB newsletter for information on future lectures, workshops, and more.
Sited at UCLA, cityLAB's scope is global. The lab and its work have been featured in Newsweek and CNN-International, along with numerous professional publications; its core members are invited to teach and lecture internationally; cityLAB was selected to participate as a new form of practice at the Venice Architectural Biennale in 2010; and, as cityLAB's founder, Cuff is the recipient of numerous awards and a prolific author, all grounded in the lab's research and teamwork including her forthcoming book, Architectures of Spatial Justice (MIT Press, 2023).
cityLAB was originally launched with the generous support of Sarah Jane Lind, and continues to be sustained by the support of Cindy Miscikowski.