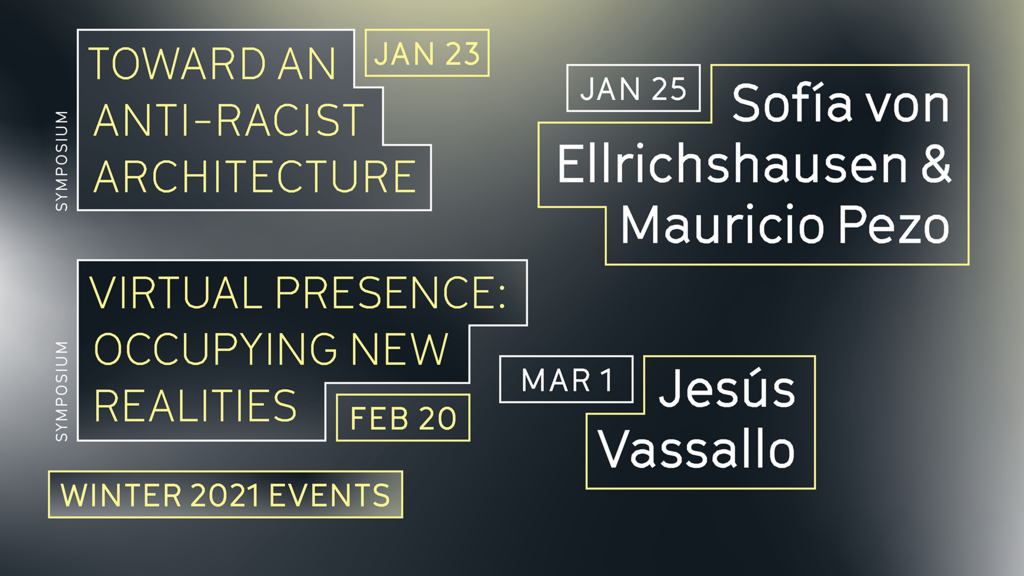 We are excited to announce our virtual events lineup for 2021. While we will miss welcoming our community in person, we look forward to connecting virtually for a series of public lectures and symposia. We hope you will join us in these conversations.
Lineup
Toward an Anti-Racist Architecture Panel
Saturday, January 23, 9 AM PST
Hosted by UCLA AUD PhD students, this panel will bring together academics from accross the country to frame a discussion on anti-racist practices in architectural design and history.
Virtual Presence: Occupying New Realities Symposium
Saturday, February 20, 5 PM PST
Hosted by Guvenc Ozel and the IDEAS Technology Studio, this symposium aims to investigate scenarios where occupants of such architectures travel seamlessly between the digital and physical worlds.
Lecture with Jesús Vassallo, "Epics in the Everyday"
Monday, March 1, 12 PM PST
A lecture by Jesús Vassallo, Associate Professor of Architecture at Rice University.
Lecture with Anne Holtrop, "Site, Matter, Gesture"
Monday, April 12, 12 PM PST
A lecture by Anne Holtrop, Founder of Studio Anne Holtrop and Associate Professor at the ETH in Zurich.
Lecture with Eric Höweler and J. Meejin Yoon
Monday, May 24, 12 PM PST
A lecture by Eric Höweler and J. Meejin Yoon, Founders of Höweler + Yoon.