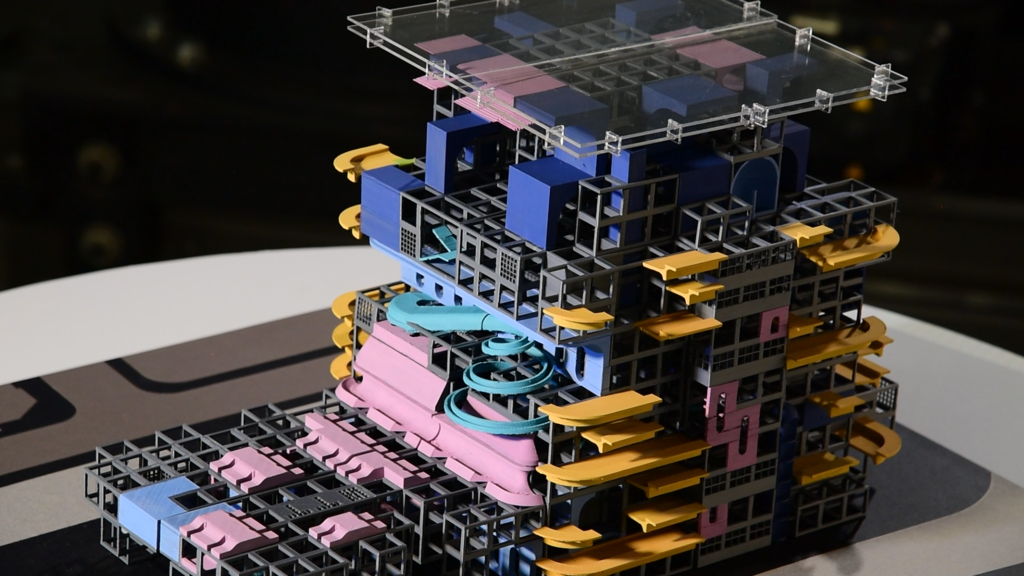 "Factory Reset"
Work by Akanksha Deolekar (MSAUD '23)
Completed for 2023 MSAUD/IDEAS IDEO Advanced Topics Studio "LA in Progress" (Matt Conway, Tucker van Leuwen-Hall)
In our hypothetical "Plan B," climate change and the construction of the sea wall have brought about significant changes to the landscape of Los Angeles, reshaping the city's boundaries and necessitating a more efficient and sustainable approach to resource management. This rethinking of resources has drastically changed the consumer goods industry. Historically, products lose value over time as new products replace them. In a world that is grappling with limited resources, there will be limited production and manufacturing. With limited resources, the cycle changes to one where it is beneficial for the products to gain value over time, using products to their maximum potential and thus reversing historic consumer behavioral patterns; product repair and maintenance will become more important than manufacturing and retail.
A shift towards buying and selling second-hand products represents a significant departure from the historic consumer goods industry, which was largely built on a model of constant production and consumption. Amidst the emphasis on functionality, people still have the liberty to customize and choose according to their individual preferences. Hence, the need to find a balance between standardization and customization for a harmonious balance between repairability and individuality.
In this system, the Furniture Factory stands as a testament to reimagined industrial spaces. This adaptable factory accommodates the entire vertical integration of the product life cycle, emphasizing the principles of reuse, recycling, and sustainability over new retail ventures. Compact manufacturing and retail areas coexist alongside repair and maintenance facilities, as well as recycling centers. Moreover, the customization workshop encourages individuality to thrive in a highly modularized world. The building itself serves as a visual diagram, showcasing the transformation of products from standardized to personalized and serves as a transformative intervention embodying the ideals of a circular economy.
The factory has zones on every level based on the fabricating materials and is vertically integrated with a central paternoster and decentralized service elevators, breaking the normative horizontal factory typology. The consumer is actively involved in all stages of production through a public corridor, rendering easy participatory access to the processes. This gives agency to the user and ensures that only what is needed is being produced. Efficiency is achieved through standardization with modular structural cubes forming a flexible skeleton. It allows the factory to expand and contract as needed without wasting space. Chunks can be plugged in and out, reused, and reoriented to serve different purposes, allowing for easy reconfiguration of the factory. This adaptability fosters a versatile production environment within a compact space.
The transformed factory transcends its industrial era role as a mere site of passive production and evolves into a vibrant and active ecosystem. It becomes a spectacle of production and consumption, where the entire product lifecycle is celebrated. This reimagined space serves as a powerful symbol of progress, inspiring a new paradigm where production, community, and environmental consciousness coexist harmoniously.
The MSAUD/IDEAS IDEO Studio is one of four studios in AUD's MSAUD program, and is a collaboration between the MSAUD program and the global design company IDEO. The IDEO Studio leverages IDEO's expertise in human-centered design to reimagine architectural systems and their effects on cities, drawing upon IDEO's extensive experience of working with clients from different industries and a synthesis of the shared architectural challenges they face. Focusing on both digital and physical spaces, the studio explores the constraints and possibilities of architecture in its relationship to emerging technologies across multiple disciplines, scales, and timeframes.
Alongside Deolekar's project, check out the IDEO Studio's 2022-2023 highlight reel, viewable on Vimeo.