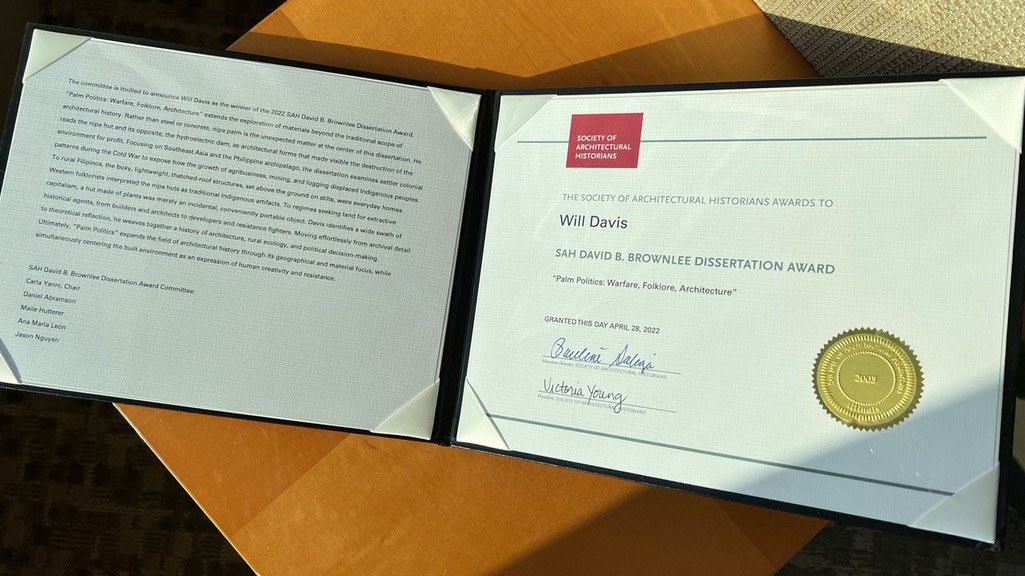 The Society of Architectural Historians (SAH) has awarded the David B. Brownlee Dissertation Award to AUD's Will Davis (PhD '21) for his thesis "Palm Politics: Warfare, Folklore, and Architecture." Davis formally received his award at SAH's annual international conference in Pittsburgh in May 2022.
Introduced in 2019, SAH David B. Brownlee Dissertation Award recognizes the most outstanding doctoral dissertation in the field of architectural history completed during the two years prior to the submission date. The Award honors Brownlee, the Frances Shapiro-Weitzenhoffer Professor of Art History at the University of Pennsylvania, who is a historian of modern architecture and urbanism with wide-ranging interests.
Davis's dissertation "Palm Politics" expands the traditional scope of architectural history through its geographical and material focus–specifically its close reading of nipa palm. Davis considers the "nipa hut" and its diametric opposite, the hydroelectric dam, as architectural forms that identify the way ecological change took place in the 1960s, 70s, and 80s within the geographic scope of Southeast Asia and the Philippine archipelago. In this context, Davis observes, the growth of agribusiness, mining, and logging was met with Indigenous resistance, church activism, and communist insurgents. These historical agents—builders, architects, developers, resistance fighters—narrate an unlikely history of architecture that ties a nascent environmentalism to political propaganda and cronyism, amid ecological collapse.
Davis is currently a Lecturer in History and Theory of Architecture at the National University of Singapore. During the 2022-2023 academic year, he will be on leave while undertaking a Princeton Mellon Postdoc in Architecture and the Humanities at Princeton University. While at Princeton, Davis will work on expanding his dissertation into a book, with working title Palm Politics: Warfare, Folklore, and Architecture.
At AUD, his dissertation committee consisted of: Professor Dana Cuff (chair); Associate Professor Michael Osman; Professor Sylvia Lavin; and Professor Ananya Roy.
The SAH Brownlee Award committee included Carla Yanni (Chair), Daniel Abramson, Maile Hutterer, Ana María León, and Jason Nguyen. The 2021 recipient was Esther Choi for her dissertation "The Organization of Life: Architecture and the Life Sciences in Britain, 1921–1951."