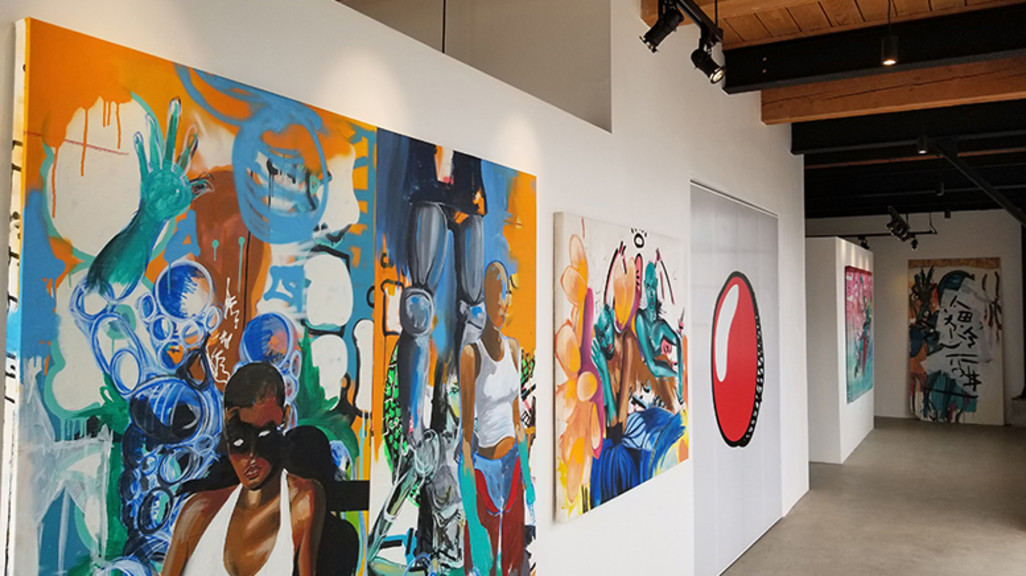 On a recent Sunday afternoon, I met Kevin Sherrod at Gallery 90220, a new art gallery housed in an industrial stretch of Historic South-Central Los Angeles. Sherrod and a team of designers hope the space will become a hub of community and inspiration, to be led by and primarily serve an audience of color.
"What I'm really interested in is changing the way we understand the memory of Black and Brown people and displaying that architecturally. That's really what this gallery is about," said Kevin Sherrod, who works at the global architecture, design, and planning firm Gensler and lectured for UCLA Department of Architecture and Urban Design's Summer Program in past years.
Sherrod received his master's in architecture degree from UCLA in 2017. Gensler hosted the project as a community impact project, and two of Sherrod's colleagues and fellow UCLA architecture alums, Chris Doerr and Wayne Thomas, worked on the design of the gallery. Sherrod and Thomas are both Black, something Sherrod says is key to this space.
"We were really intentional about making sure that the Black and Brown body was present in every facet of this overall project," Sherrod said.
The design team also wanted the gallery to evoke the memory of the workers who once worked in this former tile manufacturing facility. Exposed wood beams and black-painted steel girders recall the building's industrial past. White wall panels reach about three-quarters of the way to the ceiling, providing expansive surfaces for mounting art while exposing the original brick walls behind them. Large translucent windows on three walls filter plenty of sunlight into the space.
"We didn't take away the monumentalized things that hold the memory, like the beams and columns," Sherrod said. "We really wanted to celebrate the memory and really have the art juxtaposed, as if it was standing on the shoulders of the family members that came before... It's really about the projection of a chronology of intergenerational thought."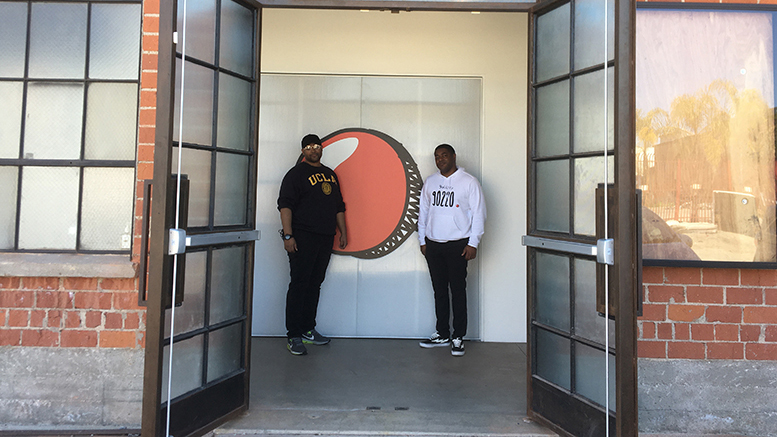 The "Flavor" of Compton
Gallery 90220 takes its name from the zip code that includes much of Compton, a historic hub of Black life in Los Angeles. The gallery's founder, David Colbert, Jr., is the executive director and founder of Compton Art Walk, Inc. Colbert was born and raised in Compton, graduated from Compton Dominguez High School, and studied sociology at California State University, Dominguez Hills.
"I see the gallery as a beacon for Compton creatives, but it's a space for everyone," Colbert said. "It's actually going to be very unique, because Compton provides its own flavor."
While the gallery is modestly sized, at 725 square feet, the design team created more space to display art by adding a floating wall that also doubles as a storage unit with sliding wire racks for mounting upright paintings. An interior room, created through sliding pocket doors, serves as an office, podcast recording studio, VIP room, and a storage space for merchandise that bears the Gallery 90220 logo, a stylized red dot.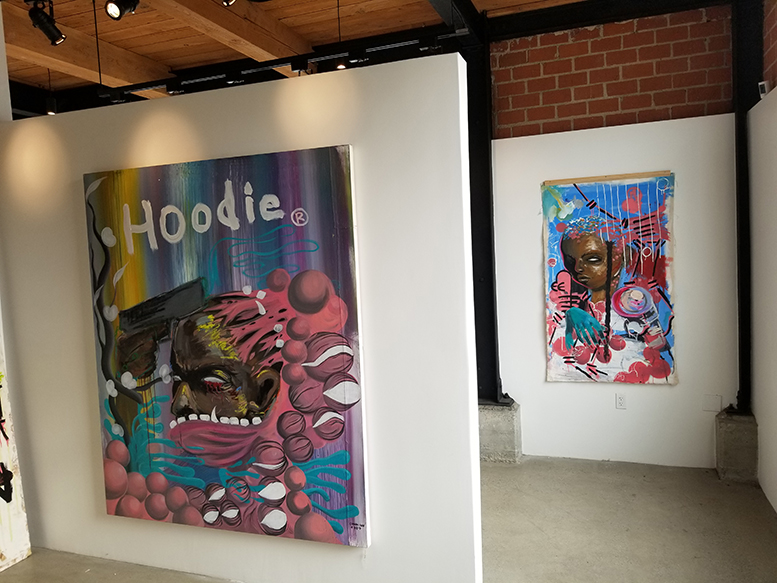 Kevin Sherrod's Unique Path
Sherrod is a Philadelphia native, and attended the Charter High School for Architecture + Design, which was formed by the American Institute of Architects' Philadelphia chapter. Once arriving in Los Angeles, he took classes at community colleges to save money and raise his GPA. He transferred to the Southern California Institute of Architecture, or SCI-Arc.
At one point, Sherrod considered dropping out of SCI-Arc due to a lack of funds. Architect Thom Mayne stepped in, offering Sherrod an internship and job at his studio Morphosis Architects. Sherrod went on to graduate from SCI-Arc and accept a fellowship to continue his studies with Mayne at UCLA.
Sherrod credits UCLA with giving him the tools to have reached this point in his career.
"I think what UCLA did was, it validated that we belonged," Sherrod said. "UCLA offers a specific level of liberation. It allows you to know and be more than what you think you are when you walk through the door... it really offers a platform for you to transcend the box or the framework that you typically work in."
This article was reposted from the UCLA School of Arts and Architecture's Works in Progress podcast series that looks at current topics and trends through the lens of art, architecture and design, and explore the ideas and practices of UCLA's faculty, staff, students and alumni. Read the full article on the UCLA Arts website.