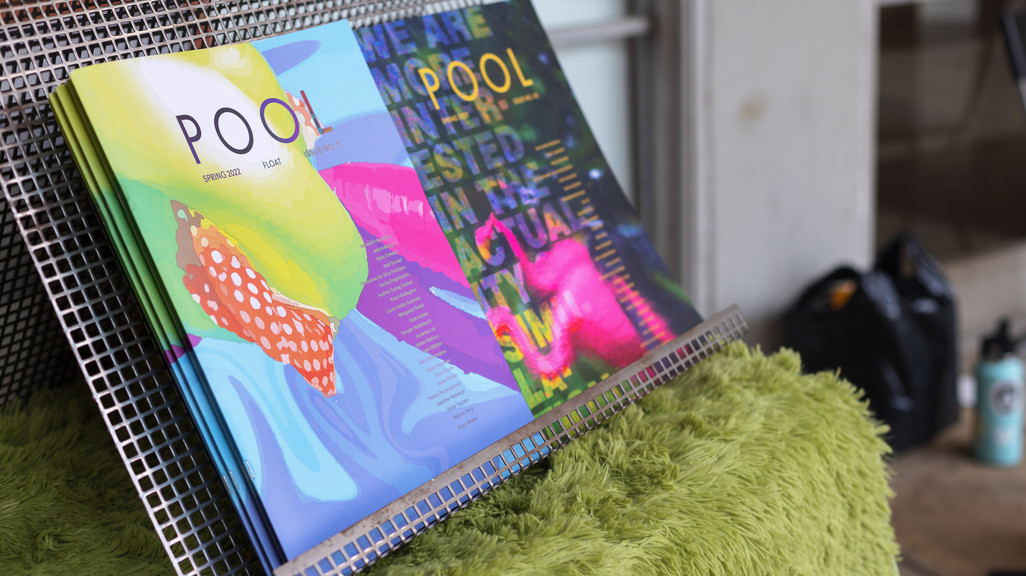 News
Student
Research
Graham Foundation honors AUD's student-run journal "POOL," PhD candidate Giulia Amoresano in 2022 awards cycle
The Graham Foundation for Advanced Studies in the Fine Arts has honored UCLA Architecture and Urban Design's (AUD) student-run POOL as well as PhD candidate Giulia Amoresano in its annual cycle of grants and awards. POOL is one of 36 recipients from around the world among the Graham's Grants to Organizations, joining four other awardees in the Student-Led Publications category. Amoresano is among the Citations of Special Recognition in the Foundation's Carter Manny Awards, recognized for her AUD dissertation "Cultivating the Italian Empire: Architecture and the Origins of the Global South, 1861–1914."
Founded in 1956 and based in Chicago, the Graham fosters the development and exchange of ideas about architecture and its role in other fields, as well as across culture and society. Among its initiatives, the Graham awards annual project-based grants to individuals and organizations and produces exhibitions, events, and publications.
AUD's student-run journal POOL has been awarded a Grant for Organizations for its forthcoming issue, "No. 8," alongside entries from Yale School of Architecture, Rice School of Architecture, Texas Tech College of Architecture, and University of Illinois at Chicago College of Architecture, Design, and the Arts.
POOL was inaugurated in Spring 2016 with "No. 1: Table," and seeks to expand the definitions of architectural work and to take up content curation as a primary form of cultural production. The journal fosters events and ongoing digital exchange that feed into its annual print edition, experimenting with the interfaces among these various outputs. The journal is distributed in limited-batch print runs and stocked at select bookstores.
POOL's most recent edition, Spring 2022's "No. 7: Float," invokes floating as a provocation on different modes of being, living, thinking, and interacting. "The experience of floating today is circumscribed by the predicament in which one finds themselves: limbs are laden by obligations and promises, struggling to be buoyed by life and externalities," reads the edition's introduction. "Even the aimless act of floating to deprive the senses is compromised by the incessant necessity of production. Still, float and fall, sink and flink–untethered, unrestrained, and suspended by potential and possibility."
The theme for POOL "No. 8" will be chosen during the Fall 2022 quarter, in advance of the issue's planned publication date at the end of the 2022-23 academic year.
Meanwhile, the Graham honored PhD candidate Giuliana Amoresano with a Citation of Special Recognition within its Carter Manny Awards, recognizing outstanding doctoral dissertations on architecture and its role in the arts, culture, and society. Amoresano's project, "Cultivating the Italian Empire: Architecture and the Origins of the Global South, 1861–1914," examines the spatial politics that directed the modernization of the then-newly constituted nation-state of Italy.
In the dissertation, Amoresano investigates transnational practices focused on agrarianism and performed by architects, politicians, and subjects traditionally defined as "colonized," expanding traditional notions of the relation between architecture, coloniality, and processes of nation-state building. She is co-advised by AUD's Sylvia Lavin and Michael Osman.
Prior to AUD, Amoresano earned a BSc in architecture from the University of Rome La Sapienza and a combined master's degree in architecture and urban design and planning from the University of Technology of Eindhoven in Holland. Her work focuses on histories of architecture and infrastructure as they catalyze alternative forms of imperialist practices in the context of the newly constituted kingdom of Italy, the Ottoman Empire, and Libya in the early 20th century. Prior to her current teaching and research, Amoresano worked as a designer in Europe, Brazil, and India.
To learn more about the full roster of 2022 Graham Foundation awardees, visit the Graham's website, including announcements of Grants to Organizations and the Carter Manny Awards.