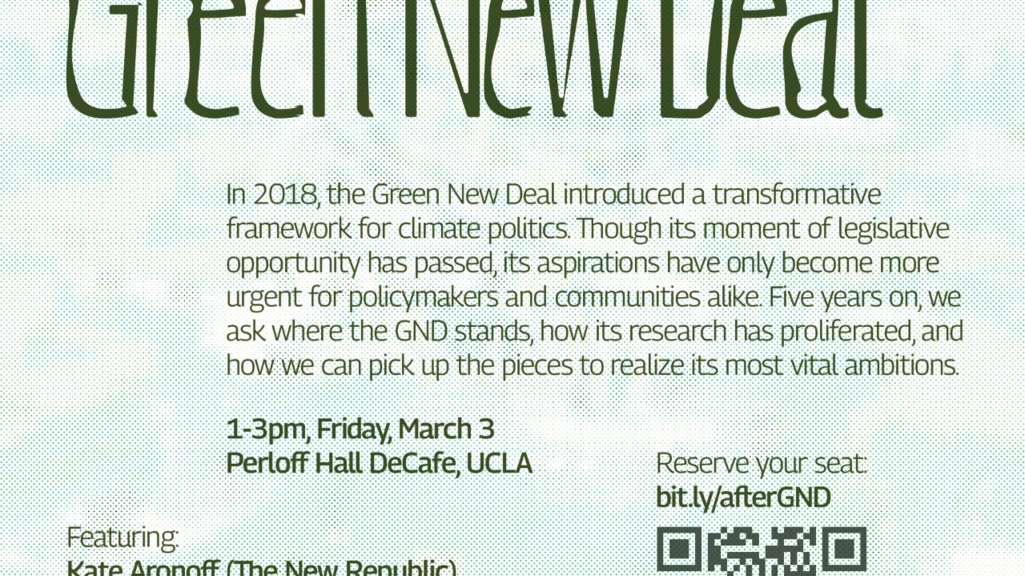 March 3, 2023, 1:00 PM – 12:00 PM
UCLA AUD's Critical Studies program hosts a panel discussion about the Green New Deal, featuring Kate Aronoff (The New Republic), Daniel Aldana Cohen (UC Berkeley), and Billy Fleming (Ian L. McHarg Center for Urbanism & Ecology, University of Pennsylvania). The event takes place Friday, March 3, 1:00 to 3:00 pm PST, Perloff Hall/Decafe.
In 2018, the Green New Deal introduced a transformative framework for climate politics in the United States: large-scale federal intervention that would redirect the course of the climate crisis and serve as the basis for a just economy. Though its moment of legislative opportunity, as House Resolution 109, has passed, the Green New Deal's aspirations have only become more urgent for policymakers and communities alike.
Five years on, this workshop asks where the Green New Deal stands, how its research has proliferated, and how we can pick up the pieces to realize its most vital ambitions. The workshop will inaugurate an ongoing initiative at UCLA that brings together a coalition of researchers, policymakers, and practitioners to imagine, organize, and build towards a just transition.
Please register in advance in order to attend.