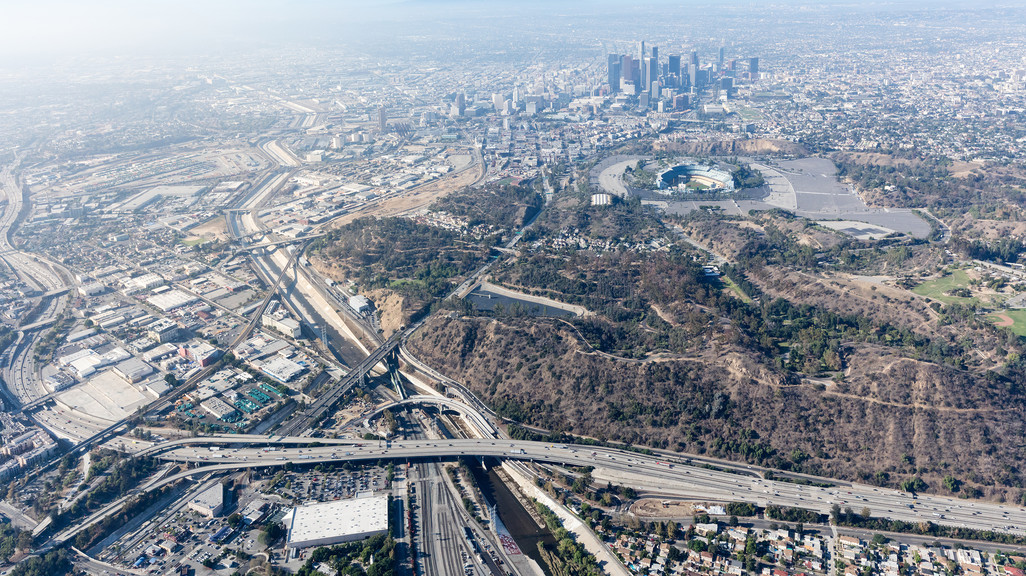 February 29, 2020, 3:45 PM – 7:00 PM
Join us for a symposium hosted by Jeffrey Inaba and the IDEAS Urban Strategy Studio.
LA's past and future are tied to land - as in land development, land value, and landmarks. In other cities the grid dictates urban growth and buildings conform to its strict order. In LA the land rules: street grids buckle and dissolve along the foothills, and structures and open spaces follow the principles of grading. Mountains, valleys, and water determine the shape of urban districts and the path of roads and freeways. Land is also the city's primary material for construction. Every plot of earth has been moved and shaped, turning fields, hills, and canyons into neighborhoods, infrastructure, and popular destinations. The LA River, Mulholland's reservoirs, Hollywood Bowl, Griffith Observatory, UCLA, Bunker Hill, the 101, 405, 5, Dodger Stadium, the Getty, and hillside enclaves from Pacific Palisades to Pasadena all were built by transforming the land into a new typography.
In the City of Angels, the more there is engineering the higher the land value. Cut and fill, and terracing have made it possible to build in locations desirable for their proximity to nature and elevated views. Reclamation has enabled development in low lying areas that have convenient access to water and coastal zones. But as the effects of climate change intensify, these engineered lands are at greatest risk of peril. They are literally where real estate economics and climate unpredictability have begun to collide. This practice of designing the land has increased the threats of fire, flooding, and landslides, but it is also possibly our best means to confront the city's new reality of extreme climate. LAND will explore the history and future making of land and urban strategies to improve the quality of life in LA.
To discuss land history, technologies, and design, UCLA is excited to host presentations by three renowned speakers: Christopher Hawthorne, Chief Design Officer of the City of Los Angeles, and former LA Times Architecture Critic; Francesca Ammon, Associate Professor of City & Regional Planning and Historic Preservation at University of Pennsylvania, and the author of, Bulldozer: Demolition and Clearance of the Postwar Landscape; and Debora Mesa, Architect and Principal of Ensamble Studio (Madrid and Boston).
Program:
3:45-4 PM: Registration
Introductions: Chair, Heather Roberge and IDEAS Urban Strategy lead, Jeffrey Inaba
Christopher Hawthrone: Presentation and conversation moderated by UCLA AUD Professor, Dana Cuff
Debora Mesa: Presentation and conversation moderated by UCLA AUD IDEAS Urban Strategy lead, Jeffrey Inaba
Francesca Ammon: Presentation
Reception: Explore recent student work from the M.S.AUD post-professional program
RSVP Now
About the IDEAS Event Series:
The IDEAS Event Series looks beyond architecture's traditional boundaries to explore emerging trends in Los Angeles' most creative industries including entertainment, mobility, technology, and urban strategy. As an opportunity for interdisciplinary exchange, prominent academics and industry leaders present cutting-edge research and engage in meaningful discussions about the future of their fields and the roles they play in the evolution of architecture and the urban environment.
The symposium will take place at the IDEAS campus near Culver City. Ample street parking is available in the surrounding neighborhood.