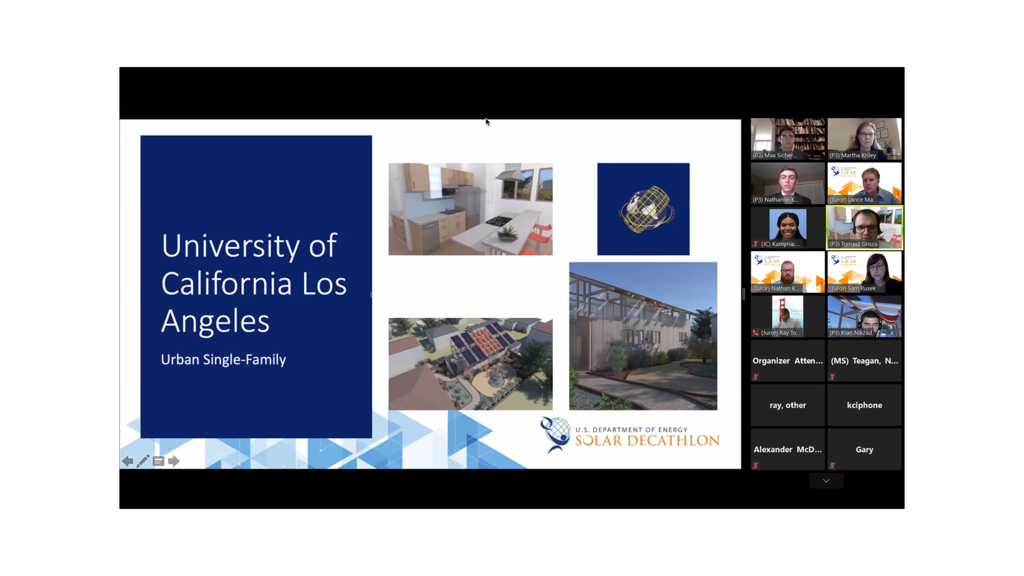 Congratulations to UCLA Architecture and Urban Design students Martha Kriley (M.Arch. third year) and Tomasz Groza (M.Arch. second year) whose team placed second in the Urban Single-Family category at this weekend's U.S. Department of Energy Solar Decathlon. Working with a cross-disciplinary group of UCLA students across engineering, economics, and physics, for the last few months, the team has been working on a proposal to showcase the future of the built environment through high-performance energy-efficient design.
The Solar Decathlon challenges teams to consider a variety of building advancements that will make them more affordable for families, incorporate grid-interactive technologies, improve construction productivity, provide greater comfort and healthier indoor environments, optimize operational efficiency with resilient solutions that will stand the test of time. Team UCLA's proposal, Casa Mas is an Accessory Dwelling Unit (ADU) that offers a sustainable solution to the housing shortage in Los Angeles. The design provides a high-performance, environmentally responsible solution where homeowners can obtain additional income and renters can find affordable housing.
Overcoming social distancing and personal challenges related to the COVID-19 pandemic, the team presented their proposal virtually this weekend to a group of judges. Their final proposal included: a 60-page project report that considered architecture, engineering, building envelope, and energy usage; a 25 minute recorded presentation; and a short film, virtually to a distinguished group of judges.
Martha Kriley | Team Lead, Architecture
Tomasz Groza | Architecture, Climate Analysis
Nathaniel Kuffner | Financial Analysis
Max Sicherman | Energy, Lighting Systems
Kian Nikzad | Smart Control Technologies
Joshua Wong | Engineering
Frances Strnad | Graphic Design, Marketing
William Welch | Engineering
Joseph Prusan | Engineering
Matthew Chung | Engineering
Maria Kiejnich | Demographics and Strategy
Jay Uppuluri | Water and Waste
Max Menczer | Water and Irrigation
Jake Smith | Engineering
Noa Nambu | Electrical Systems
George Shenusay | Video Editor
Adam Yaptangco | Sound Editor
Advisor: Alex McDonald, Program Manager at Tesla Energy