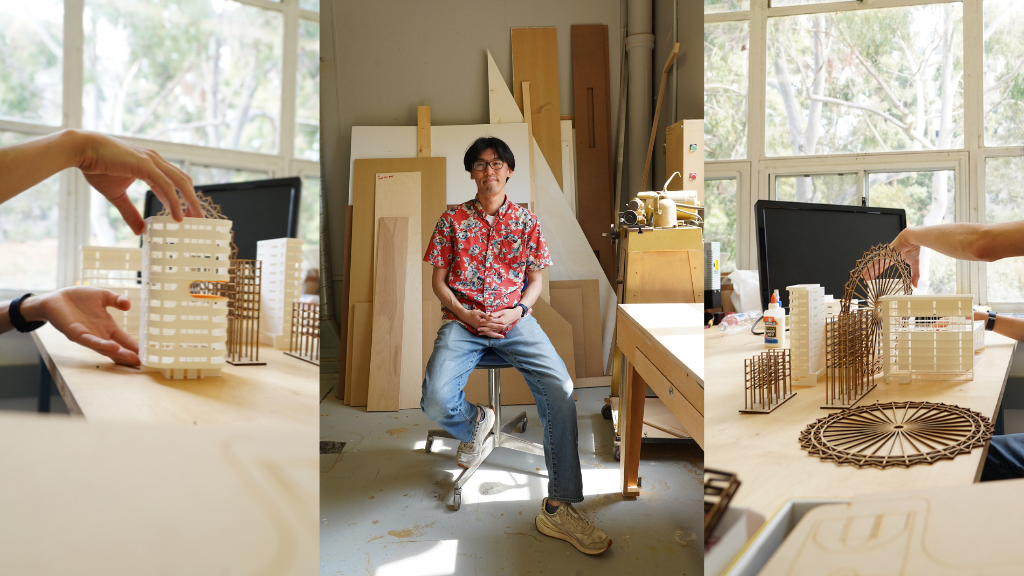 News
Student
Reimagining architecture, one fillet at a time: Motomi Matsubara (MArch '23) bridges the technical, the cultural, and the artistic
This is the second in a series of profiles of AUD's outstanding graduating students. Also check out our previous installment: a profile of Alexis Winarske (BA '23).
A childhood spent between two countries graced Motomi Matsubara with an elastic, lifelong curiosity for new knowledge, cultures, and experiences–and for the structures and logics that shape them.
Born in Nagano, Japan, Matsubara's family relocated to China when he was six years old. They returned to Japan when Motomi, or "Moto," was 18—a "strange feeling," he says.
"Everything was familiar, but at the same time, so different."
Matsubara is one of seven Master of Architecture candidates who graduated "With Distinction" from UCLA Architecture and Urban Design this June. He previously received AUD's Franklin D. Israel Memorial Fellowship and the Welton Becket Scholar Award. These honors capped a spacious academic journey.
Matsubara completed secondary school in Japan, then enrolled in Keio University's Department of System Design Engineering. He then continued studies at Kyoto University's Sey Kiyoshi Takeyama Lab and at Yosuke Komiyama Laboratory before enrolling at AUD.
While engineering complex systems, Matsubara was also navigating different cultures, languages, and identities. His studies at Keio folded architecture into the standard engineering curriculum, opening to him new tools and mindsets through which to channel his curiosity. He grew invested in the worlds of form-making, rule-setting, and structural logic.
These instincts have, in turn, animated his explorations at AUD.
"The entire process of design is a game, is play," Matsubara observes. "The game is an interaction among objects, including people and the environment, as well as a range of other objects involved in the design. I am especially interested in how the designer can curate and facilitate this interaction.
"Just as play can be the opportunity for people to encounter others, so too does space encounter and play with other space," he continues. "That to me is what is most fascinating about architecture." Browse Matsubara's complete design portfolio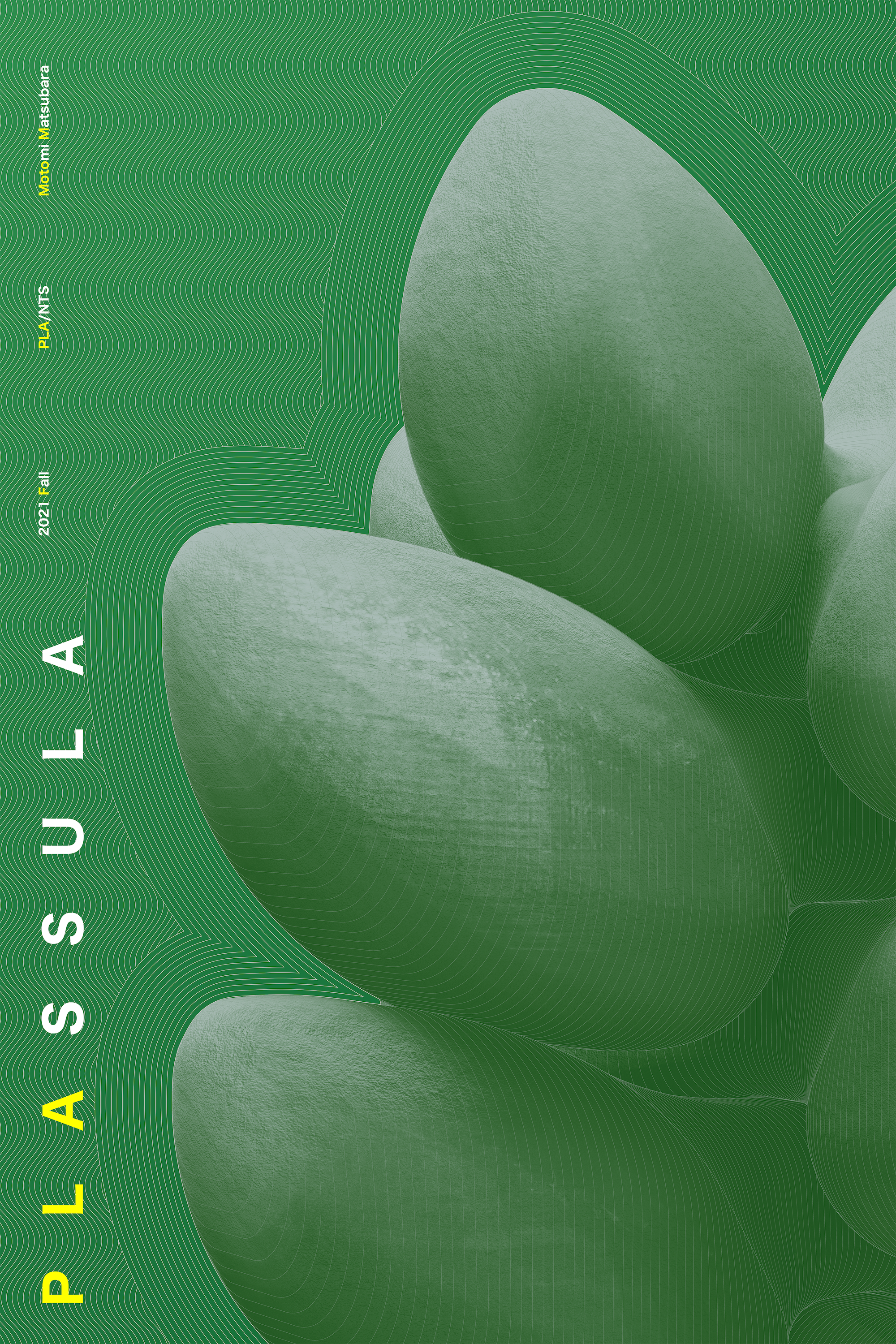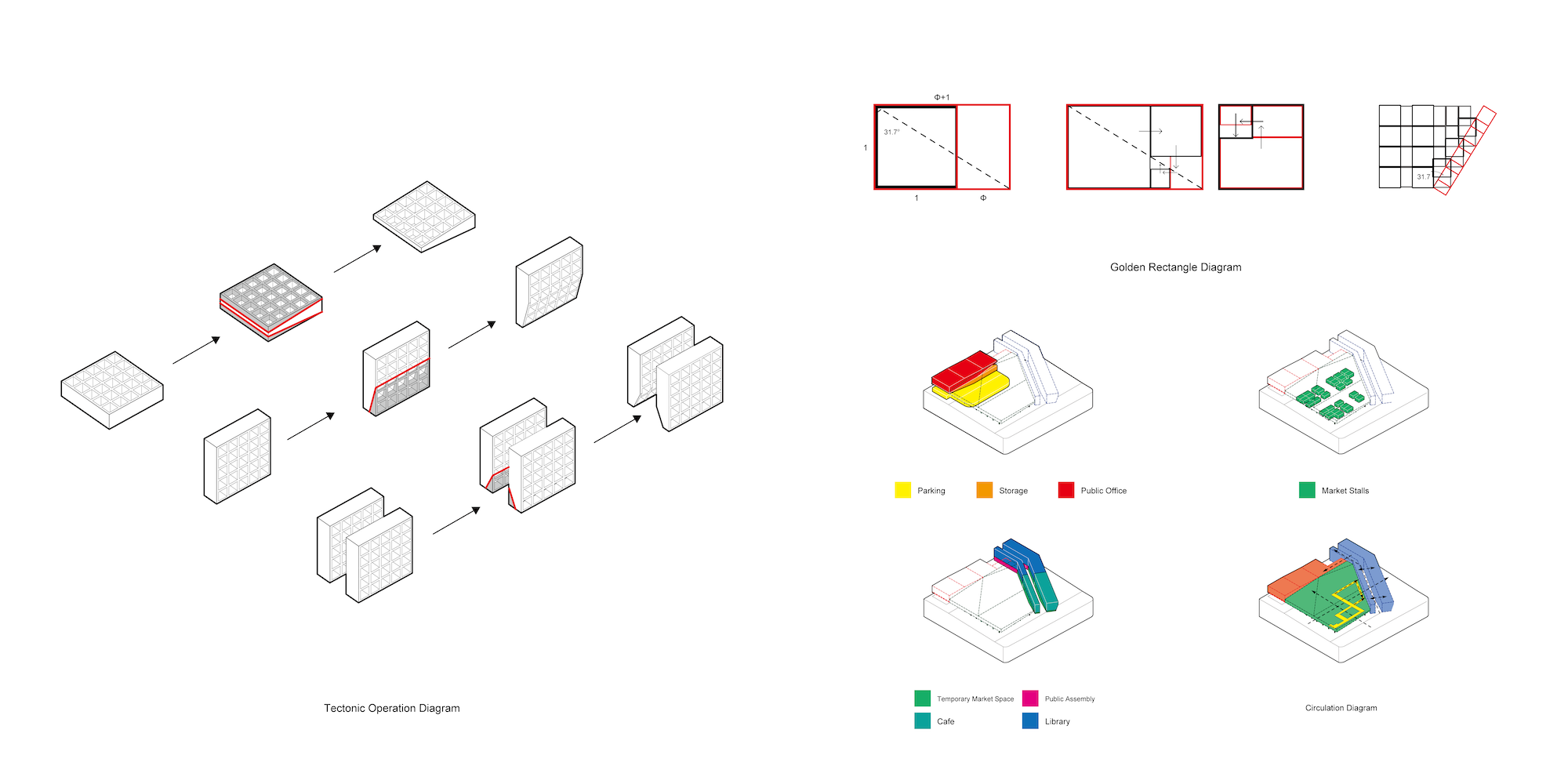 Matsubara was drawn to AUD for, in part, the cultural opportunities and horizons that Los Angeles offers. Mainstream pop culture as well as LA's "car culture" were among his interests, alongside LA's architectural context. He also appreciated that AUD's quarter system, with three academic terms each year versus two, would enable varied exposure to faculty and ideas.
Balancing an artist's creativity and imagination with an engineer's technical rigor, Matsubara has nurtured an interest in industrial aesthetics, while situating his design interests within elastic contexts. Among his favorite AUD experiences have been critical studies courses with Cristóbal Amunátegui and Michael Osman, which he credits with expanding both his architectural but also his cultural interests, and bridging those interests to "help me to form my own interests toward the world."
Matsubara also found inspiration in the MArch program's core studio sequence, particularly second-year Comprehensive Design Studio. "After I took this two-quarter studio, I started to consider how things are structured both physically and metaphysically," he observes, "and to pursue both higher and bolder resolution in design."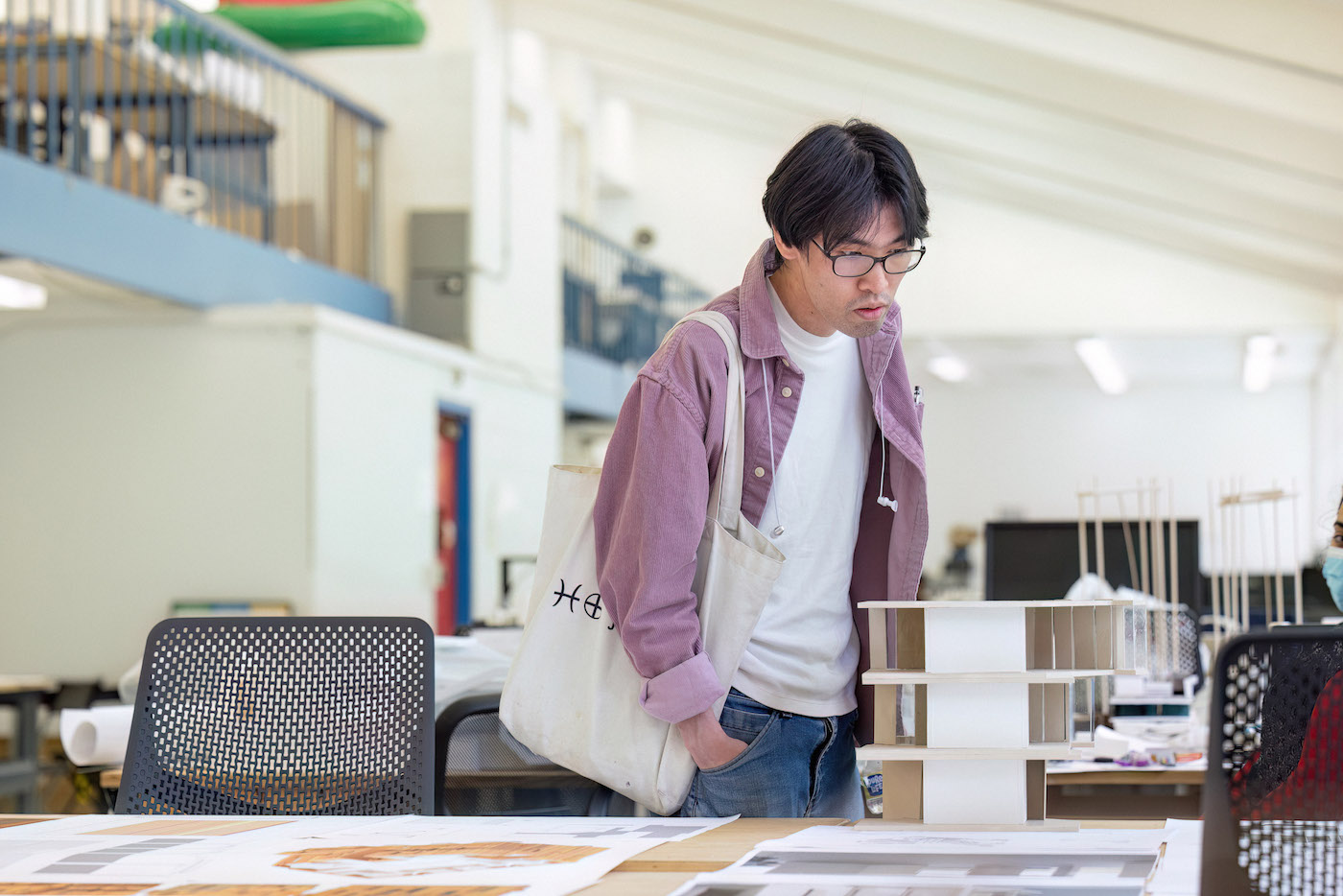 Rounding out his time at AUD, Matsubara elected into Greg Lynn's year-long research studio, studying mixed-use housing for Ontario, California.
Matsubara credits Lynn with elevating his understanding of how architecture can communicate to a broad public.
"Even a single, formal element in architecture has a cultural, technical background," he adds. "It is always exciting to make a design decision and then to materialize that concept into spatial matter."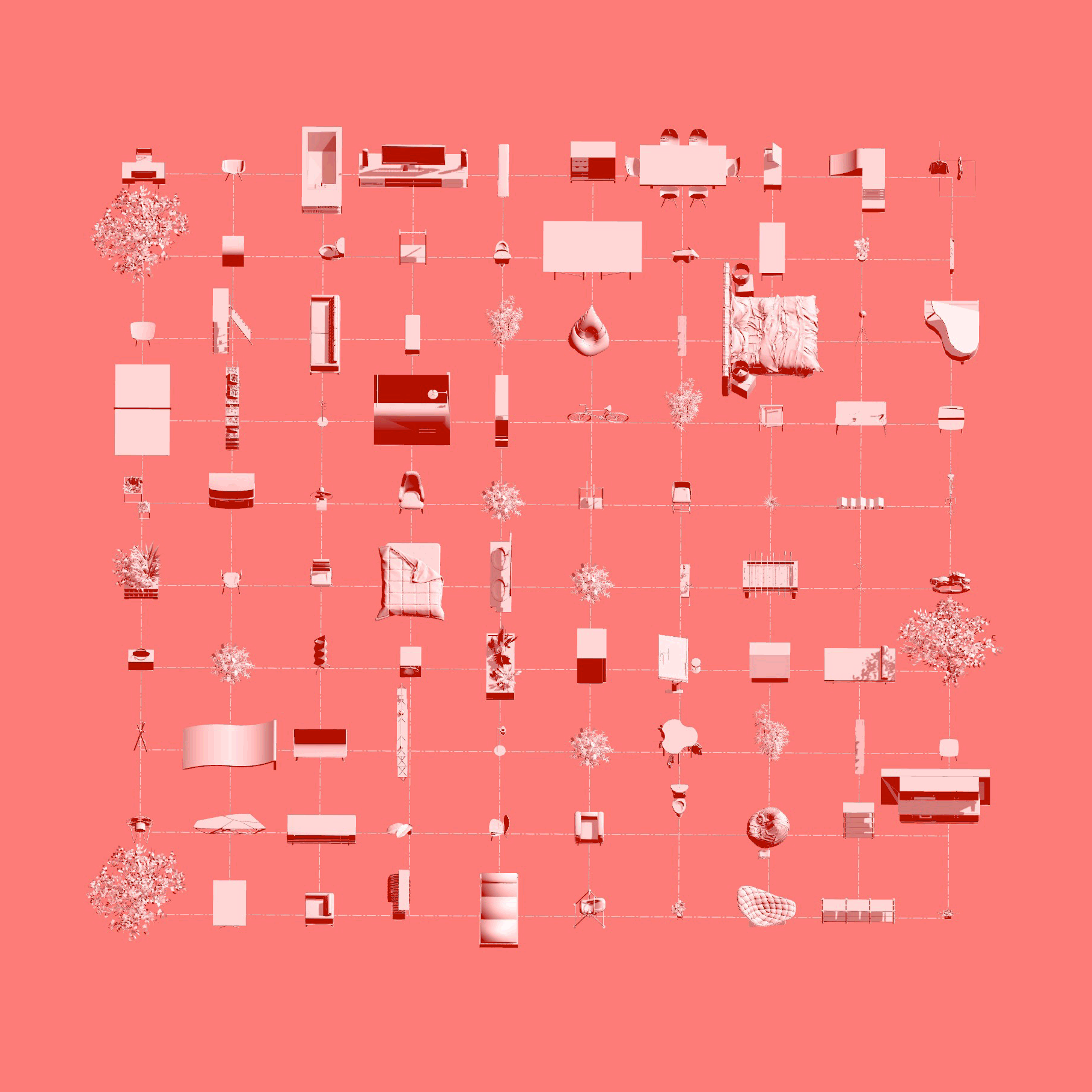 Recently, Matsubara has been looking at buildings and architecture as fillets. (His Tumblr username: FilingFillets.) He sees almost any building or any product as a fillet–a strip or block of material that has been cut and shaped. There are culinary definitions and implications, as well as technical ones. In construction, a fillet smoothens out the angles where two structures meet–connective tissue among the building's components.
As fillets connect structures, they also create bridges between different qualities, scales, and cultures, Matsubara says–"the smooth mediation of different vectors."
"The fillet is everywhere, not only in famous works of architecture, but in many mundane buildings and everyday objects," he says. "The fillet is a physical hinge but also a cultural one, connecting the architecture profession and the ordinary."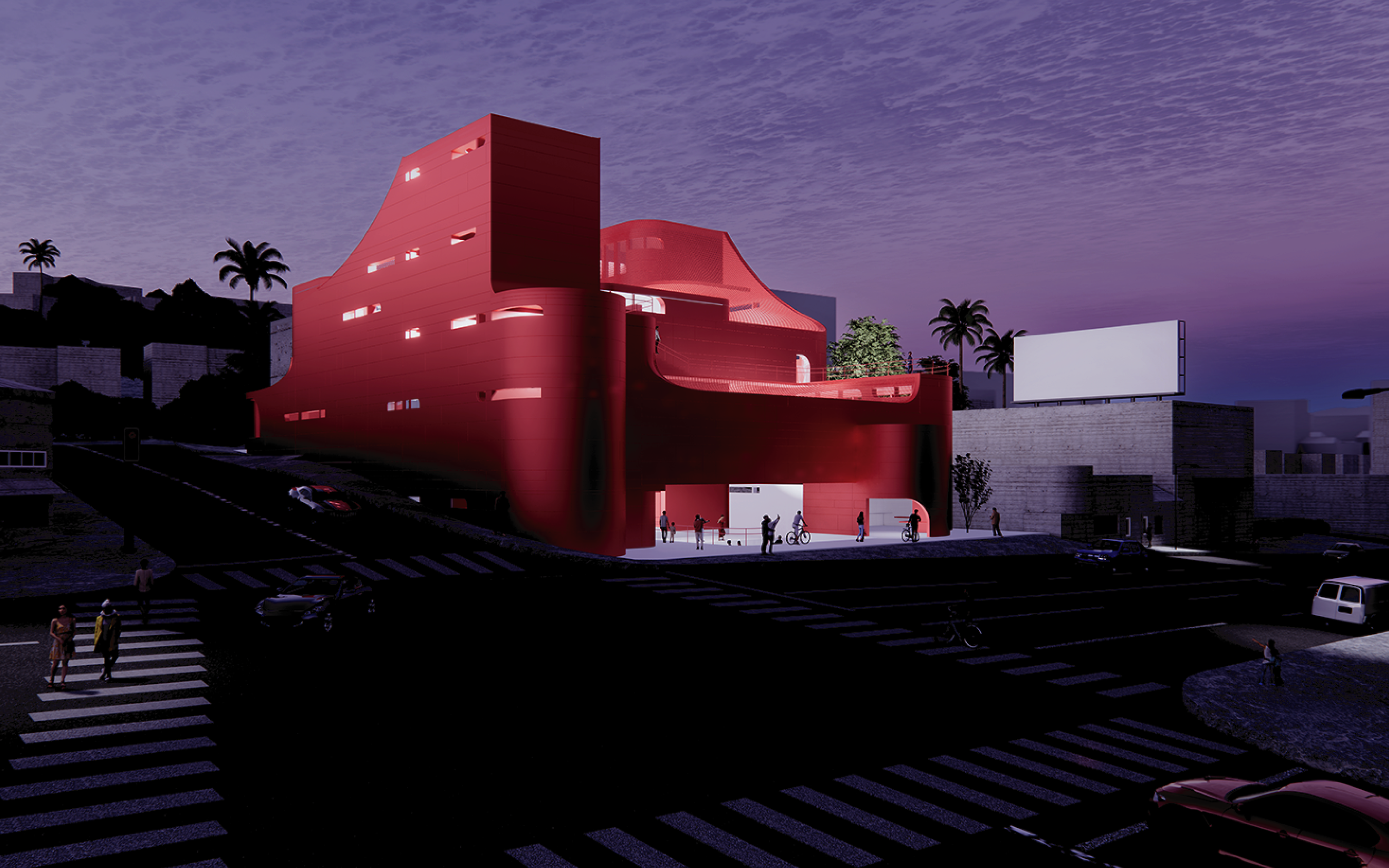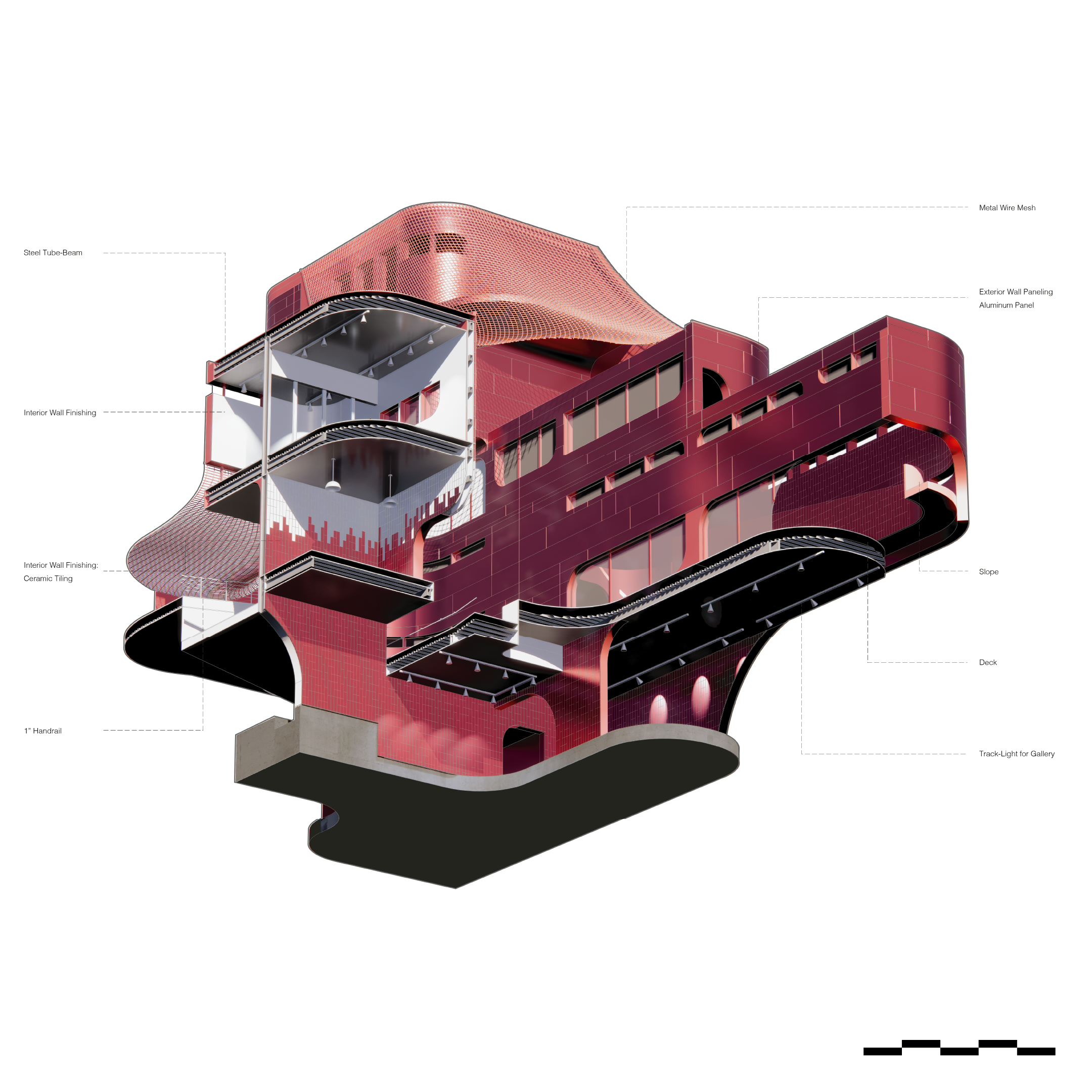 For Lynn's Spring 2023 studio, Mastubara presented a capstone project–entitled "Park! Park!"–that offers a set of housing towers, their shapes and scales informed by the interplay between the behavior of residents inside and automobile traffic outside. One of the residential towers is taller, leaner; another more lateral and rectangular. Elevated parking structures for cars—some circular, some rectangular—mingle with the housing towers; Matsubara's scheme negotiates among these various spatial needs for various physical bodies.
"Fillets perform not only as the intimate icon," Matsubara observes, "each interacting softly with adjacent housing towers, but also as mediator of the different scale of motions between two different physical bodies–people and cars."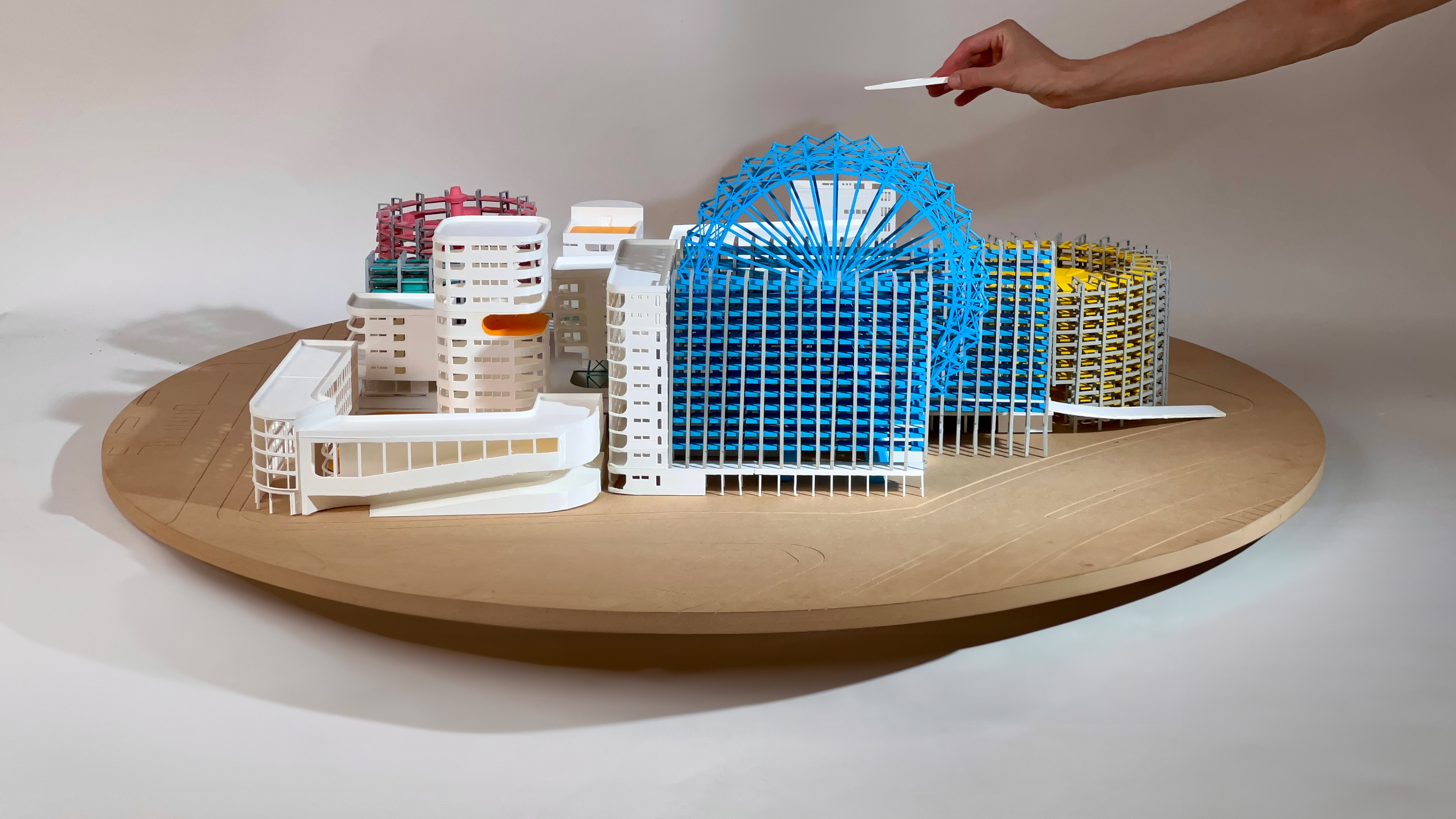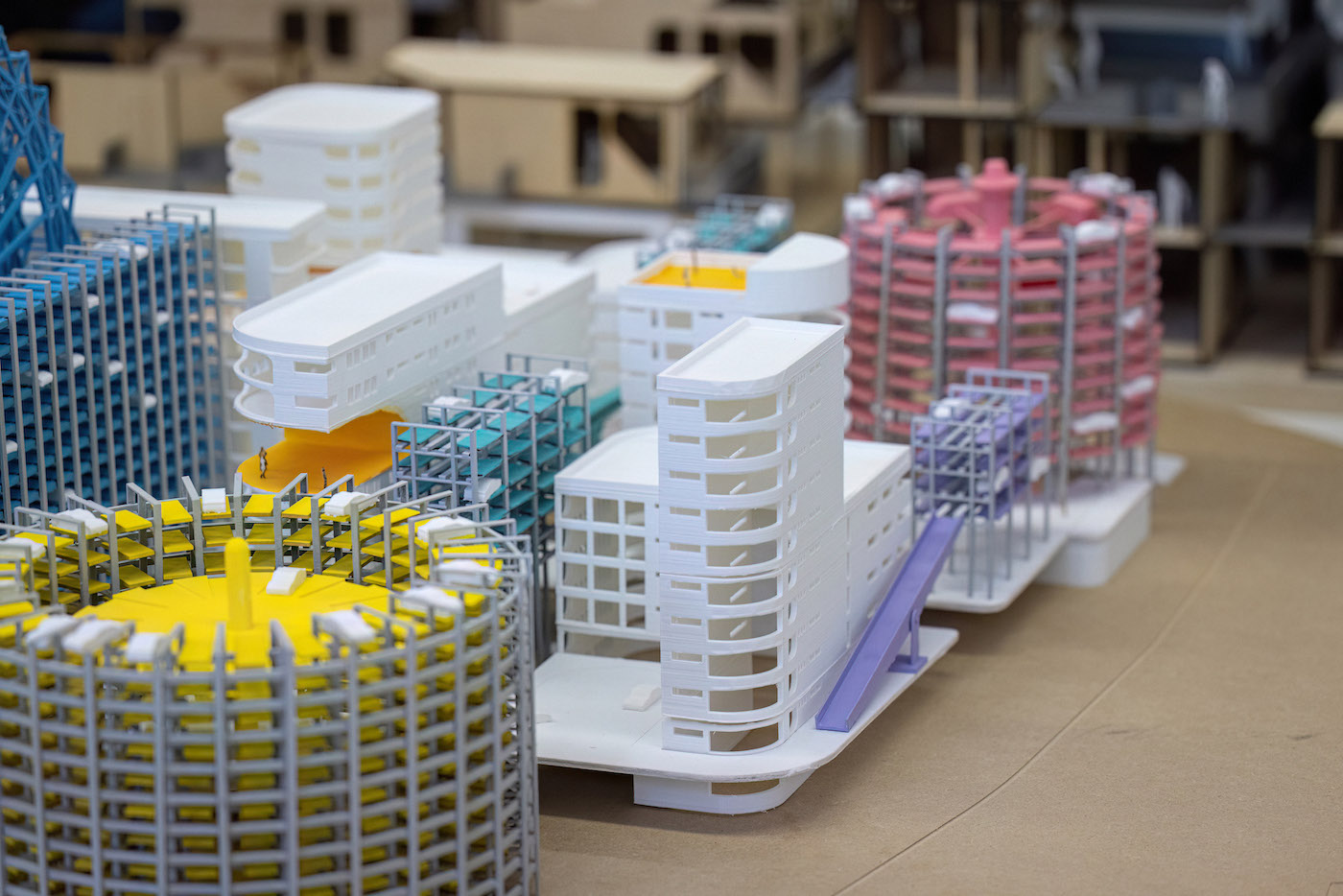 Alongside studio explorations, Matsubara has taken both pleasure and inspiration from AUD's Talk + Text Film Club, and from the natural beauty of the UCLA campus. The UCLA Arts Sculpture Garden is a personal favorite, he says.
A particular memory Matsubara holds dear was traveling to the medieval town of Carcassone, France, in October 2022 with Georgina Huljich's "Extravagant Muteness" studio.
"It is always astonishing to witness old traditional architecture standing tall and resolute in the present day," Matsubara says. "It reaffirms the fact that old buildings continue to be cherished and preserved in various parts of the world. I was amazed to see how ancient cityscapes, which have been passed down for centuries, contribute to the authenticity of the place as residents continue to live there.
"It was an effect that I had never experienced in the places I had lived before," he continues. "I truly realized that architecture is deeply rooted as part of culture."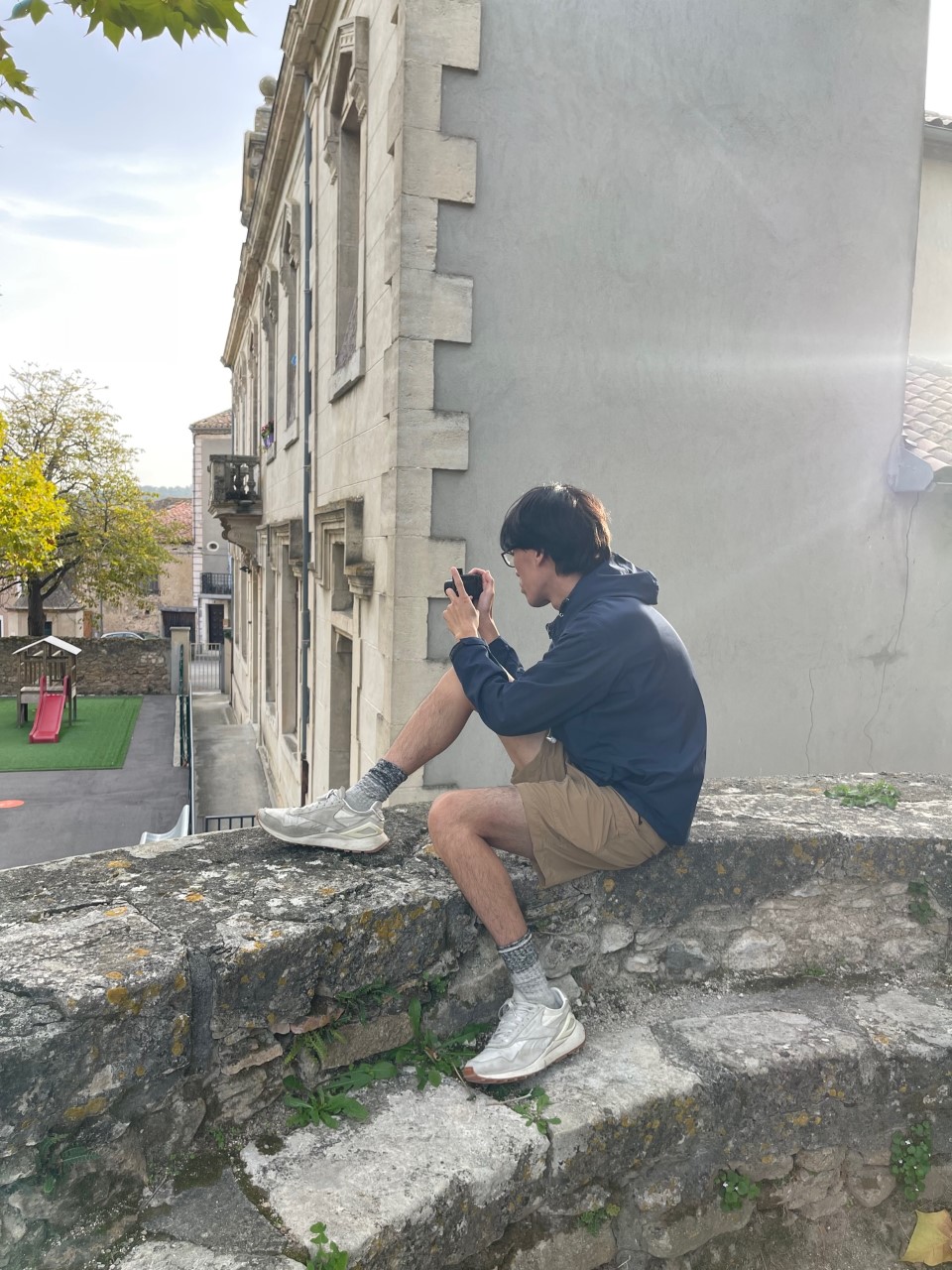 Matsubara now finds himself at another pivot point in his journey. He plans to focus his architectural practice on residential projects, and to continue research and development of the fillet concept.
Perhaps a book on fillets is in his future–and a "small hope," Matsubara adds, "would be to come back to AUD for the book launch."