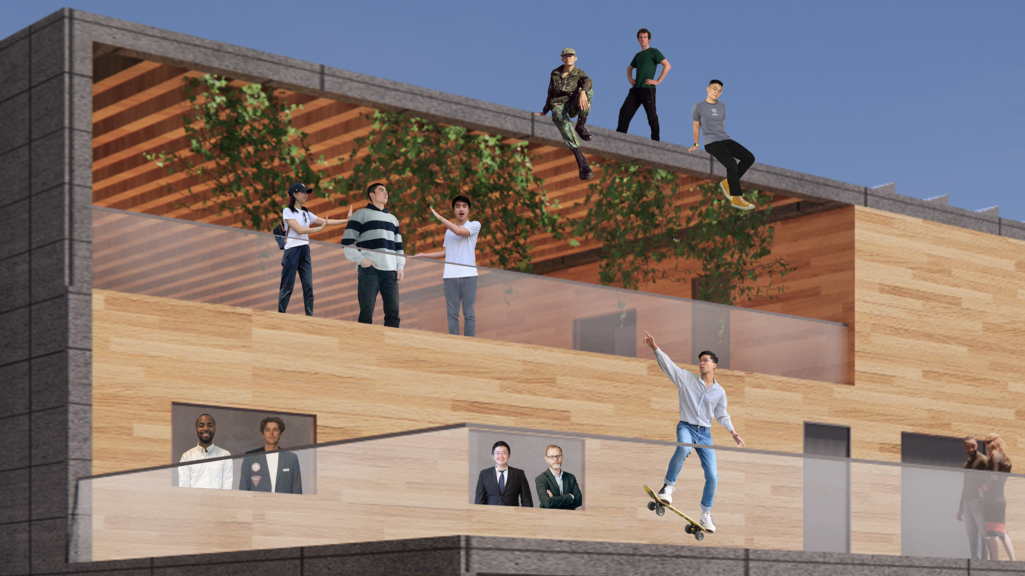 In recent years, a collaborative group of UCLA students, called Bruin Builders, have joined forces to enter the U.S. Department of Energy (DOE) annual Solar Decathlon®, which challenges student teams to design and build highly efficient and innovative buildings powered by renewable energy. The team spans different schools, departments, and degree programs, drawing on collective know-how to tackle the competition's complex prompts. Alongside preparing for the DOE competition each year, Bruin Builders work with Bruin Home Solutions (BHS) to spread the awareness of zero-energy architecture through education on sustainable practices.
After years of planning and strategizing, the team recently earned a Top 10 national placement as well as Best Graphic Design Award in the DOE's 2022 Solar Decathlon.
The 2022-2023 Bruin Builders team includes director Max Christoph Loy (BA '22), co-director Allan Hsu (BA '22), Gavin Rea (MArch '24), Chinghey Chan (MArch '24), and Siyu Mao (MArch '22), alongside a cohort of students from across UCLA.
"We realize the urban challenges we face when our experience of natural environment and ecosystems is limited by living in paved-over cities," the team writes. "Through this project, we would like to explore the design potentials of an attached residential building, which promotes the needed environmental preservation goals."
Check out this personal newsletter from the Bruin Builders team, and follow them on Instagram and YouTube to learn more.
A newsletter update from Bruin Builders: UCLA's DOE Solar Decathlon Team
Bruin Builders: UCLA's Solar Decathlon Team is a group of students across different majors and schools, who have joined forces over the past few years to collaborate on an annual global sustainability housing competition, the U.S. Department of Energy Solar Decathlon. And, this year, the team has earned a Top 10 national placement as well as Best Graphic Design Award for their work!
Bruin Builders faced a watershed moment: with only three remaining members (Max Christoph Loy, Allan Hsu, and Sterling Butler), the team entered a moment of uncertainty.
Max, Allan, and Sterling spent Summer 2021 rebuilding the team. We started with Bruin Home Solutions (BHS), a UCLA sustainability organization, who helped the trio establish a mainstream club standing. Later, following active recruitment of our officers, and with from of our new faculty advisor, AUD's Todd Lynch, we rebranded ourselves as Bruin Builders.
The newly branded Bruin Builders forged ahead: we prepared extensive new videos and social media platforms for publicity during UCLA's Fall 2021 club fairs, with our own website, Instagram, as well as a YouTube channel. Each platform showcases projects from past years, alongside with our own set of new guidelines for in-school interviews and further details on team structures.
The early days of Bruin Builders were looking bright and steady, then the pandemic intensified, schools closed their doors, and the team's competition proposal hit pause. It was a bittersweet situation considering the team had just earned finalist status in the competition.
Thankfully, the resilience of the members enabled the team to survive and adapt to the Covid storm, with new strategies on meeting formations and hybrid schedules. Alongside our design partner, Plant Prefab,
and Professor Todd Lynch, we successfully recovered from the unprecedented Delta-variant climate.
The headwinds were still strong, though: the other national school teams were highly experienced in comparison, but Bruin Builders' hard work and dedication paid off. Uncountable hours-long meetings, followed by sleepless nights accompanied with minds filled with pure passion and team spirit, helped Bruin Builders finally land on the Nation's Top 10, in addition to achieving the Best Graphic Design Award!
With 2022's team came to such a charming conclusion, the team of 2023 will be promised by the lessons of the past, and strive even further!
Go Bruin Builders! Go BHS! Go UCLA!
UCLA Bruin Builders is recruiting students for the competition this year. We are looking for students from diverse backgrounds, including architecture, all engineering, environmental science and so on. Students get to work on a comprehensive project of designing an innovative and sustainable building and attend the national competition. They will also collaborate with peers from various backgrounds.
Please fill out this application form to the team here if you are interested in learning more.
Also, please feel free to contact solardecathlonuclabhs@gmail.com if you have any questions. We look forward to meeting you in our team!
The complete 2022-2023 Bruin Builders team:
Todd Lynch (Faculty Advisor)
Max Christoph Loy (Director)
Allan Hsu (Co-Director)
Gavin Rea
Chinghey Chan
Siyu Mao
Kaiji Liang
Takeo Torrey
Kenny Yip
Sterling Butler
Jared Brown
Hu Zhao Oliver
Ariel Widjaja
Vanessa Adithia
Cindy Huang
Ryan Cheng