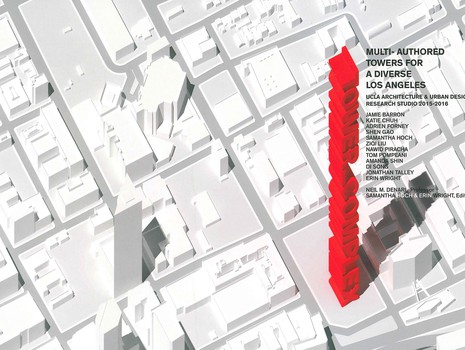 Neil Denari
For the urban developer, towers remain the most prominent tool in their typological kit. For cities like New York, Shanghai, Vancouver, and even Los Angeles, they are machines of profit, agents of sustainability (high density and small footprint), and skyline makers all in one. For the architect, they are a chance to express something within a building format that at its core is monumental, even epic. Designing a tower from the inside out to reach an honest conclusion is often not possible as most are simply empty vessels, a series of repetitive floor plates waiting to be occupied, thus leaving the architect and his or her id/ego to worry about what to do and what to say. Indeed, designing a tower is an anxiety that can generate a serious complex. Anxiety, though, can be limited in a number of ways. One is to reduce the burden of total authorship of a town to a team that works cooperatively yet strategically.
Twelve students from a 2015-16 research studio, under the direction of Professor Neil Denari, have designed the world's first multi-author tower. Working independently, yet constrained by a tectonic master-plan in the form of a 400-meter tall detached core chassis, 24 unique multi-floor modules were produced, allowing for hundreds of tower variations. This book demonstrates how the TOWER_COMPLEX and its anxieties can be converted into a COMPLEX_TOWER.
Students: Jamie Barron, Katie Chuh, Adrien Forney, Shen Gao, Samantha Hoch, Ziqi Liu, Nawid Piracha, Tom Pompeani, Amanda Shin, Di Song, Jonathan Talley, and Erin Wright. Edited by Erin Wright and Samantha Hoch.
Buy Now